Distinguished Professor Emeritus
Ph.D., University of Edinburgh
302 Arts Building
(951) 827-4634
mcbaker@ucr.edu

Curriculum Vitae
Biography/EducationResearch/TeachingSelected PublicationsBooks
Biography
My academic trajectory began in 1964 as an undergraduate studying English Language and Literature at the University of Durham (in the UK) where, through a course on Anglo-Saxon Antiquities, I was introduced to sculpture of the eighth century. I then went on to study for a Diploma in Art History at the University of Edinburgh where, moving four centuries later, I started research on twelfth-century illustrated Saints' Lives. (Notwithstanding my failure at both Latin and Art History while at school, the eventual outcome of this was a long article on "Medieval Illustrations of Bede's Life of St Cuthbert" published in the Journal of the Warburg and Courtauld Institutes in 1978.) In 1969 I was appointed Assistant Keeper in the Department of Art and Archaeology in the Royal Scottish Museum (now the National Museum of Scotland) where my curatorial responsibilities included arms and armour, eighteenth-century silver and a collection of late Gothic German and Netherlandish wood sculpture. A growing interest in German wood sculpture – prompted in part by an afternoon in 1974 spent with Michael Baxandall – developed into a wider concern with sculpture from the medieval period to the nineteenth century and an involvement in the 1978 Giambologna exhibition shown in Edinburgh, London and Vienna.
In 1980 I moved to the Department of Sculpture at the Victoria and Albert Museum with responsibility for sculpture between 1400 and 1900 north of the Alps. Though still engaged with late Gothic German sculpture, my focus was increasingly on eighteenth-century sculpture, especially (but far from exclusively) British. I also worked on the history of the V&A's plaster cast collection, which remains a continuing interest, along with the history of museums more broadly. Much (but not all) of my research over the past forty years has been on the history of sculpture – a select list of my publications is shown here and a full list is given on my CV – and this work was supported by research fellowships from the Leverhulme Trust and the Yale Center for British Art. Apart from two stimulating years between 1990 and 1992 at the University of York, I remained at the V&A until my retirement in 2005, moving from Sculpture to the new Research Department and finally heading the team shaping the Medieval and Renaissance galleries. Effectively forming a whole wing of the museum, this is the curatorial achievement of which I am most proud.
As I approached retirement in London, I looked towards the west coast of the US (where I had spent a year as a fellow at the Getty Research Institute) for a new career. Having in 2004 belatedly gained a PhD from the University of Edinburgh (some eight years after my book on Roubiliac co-authored with David Bindman had won the Mitchell Prize for Art History) I became a Professor in the Art History Department at USC of which I was Chair for two years. In 2007 I moved to UCR where I have remained, apart from leaves to take fellowships from the Huntington Library, the National Endowment for the Humanities and the Paul Mellon Centre. I shall be retiring (again) in June 2019.
Research
At the heart of my research is a fascination with how sculpture was made and viewed and the roles which it played within different societal contexts. Entwined here are various questions about materiality, the re-working of genres, reception and viewing and modes of perception as they relate to a category of artistic production that has often been seen as marginal. In a modest way, I have attempted to write sculpture back into the history of art.
My most recent work has been on the portrait bust and the statue as genres and the way in which these became central modes of representation in eighteenth-century Britain, their development being linked with Enlightenment notions of perception and the self. Some of the questions involved here are addressed in my 420 page book published at the end of 2014 by Yale University Press: The Marble Index. Roubiliac and Eighteenth-Century Sculptural Portraiture. Although there are many books about painted portraits in this period, this is the first wide-ranging study of the sculptural portrait. In the first part I discuss the bust and statue as genres, looking at the emergence of the portrait bust and statue, the way in which they functioned as representations, their conventions, their settings and viewing conditions and the processes of commissioning, making, and replication. The second part consists of a series of case studies in which I discuss sculptural portraits representing some of the key figures of the British Enlightenment, including Newton, Pope, Handel, and David Garrick.
The Marble Index built on my earlier books on eighteenth-century sculpture: Figured in Marble: The Making and Viewing of Eighteenth-Century Sculpture (2000) and Roubiliac and the Eighteenth-Century Monument. Sculpture as Theatre (1995), co-authored with David Bindman. But out of The Marble Index another line of enquiry has developed. This concerns the development of the author portrait during the "long eighteenth century", the period in which notions of authorship were being re-configured and the idea of the modern independent author emerged. One outcome of this was an exhibition about portraits of Alexander Pope shown at the Yale Center for British Art and (in the UK) the Rothschild Foundation and the book which accompanied this: Fame and Friendship; Pope, Roubiliac and the Portrait Bust (2014). The digital scanning of the eight versions of Pope's busts will form the basis of a collaborative publication with computer scientists at Yale while a fuller study of the author portrait in all media is my major current project. Other projects in progress include an article about Mattys Pool's Art's Cabinet and the ambiguity of the early eighteenth-century art book, and an online catalog of the monuments, busts and statues of Louis François Roubiliac.
Teaching
Lower-Division
AHS 007 World Art
AHS 17B History of Western Art: Medieval to Renaissance
CHASS Connect: Sacred Images
Upper Division
AHS 168 Politeness and Commerce: British Art and Design 1660-1820
AHS 169 Sculpture and its Roles in Eighteenth-Century France and Britain
AHS 192 Junior / Senior Seminar: Museums and their Histories
AHS 192 Junior / Senior seminar: Sculpture and Painting: Dialogues and Relationships
Graduate
AHS 251P Proseminar in Methodology
AHS 252 History and Ideology of the Museum
AHS 274 Seminar in Seventeenth- and Eighteenth-Century Art
Articles

"The Multiple, Authorship and the Eighteenth-Century Portrait Bust's Aura", in W. Cupperi ed., Multiples in Pre-Modern Art, Munich, 2014, 271-93
"Busts and Friendship: The Identity and Context of William Murray's Version of Roubiliac's Bust of Pope", Sculpture Journal, 22 (2013), 65-76
"A Genre of Copies and for Copying? The Ambiguous Associations of the Eighteenth-Century Portrait Bust', in T. Bartsch, M. Becker, H. Bredekamp, and C. Shreiter eds., Das Originale der Kopie, De Gruyter: Berlin, 2010, 288-311
"The Reproductive Continuum: Plaster Casts, Photographs, Paper Mosaics and Alternative Modes of Reproduction in the Nineteenth-Century Museum" in Rune Fredericksen and Eckart Marchand eds., Plaster Casts: Making, Collecting and Displaying from Antiquity to the Present, De Gruyter: Berlin, 2010, 485-500
"'For Pembroke, Statues, Dirty Gods and Coins': The Collecting, Display and Uses of Sculpture at Wilton House", in Eike Schmidt and Nicholas Penny eds., Collecting Sculpture in Early Modern Europe, National Gallery of Art, Washington, Studies in the History of Art, 2008, 378-395.
"The Cult of the Catalogue: Representing the Fonthill, Stowe and Hamilton Palace Collections", in R. Panzanelli and M. Preti-Hamand eds, La Circulation des oeuvres d'art 1789-1848, Rennes, 2007, 201-210
"Public Images for Private Spaces? Sculpture and the Georgian Domestic Interior", Journal of Design History, 21 (2007), 309-323
"Pourquoi la sculpture n'est pas plus ennuyeuse. Recherches sur la sculpture française des jardins de Versailles aux panthéons de la Révolution", Perspective, (2006/07: 2), 291-314
"Reconsidering the Economy of the Portrait Bust: Roubiliac and Houdon", in R. Kanz and H. Körner eds., Pygmalions Aufklärung. Europäische Skulptur im 18. Jahrhundert , Deutscher Kunstverlag, Berlin, 2006, 132-145
"Representing Invention, Viewing Models", in Nick Hopwood and Soraya de Charavidian eds, Displaying the Third Dimension. Models in the Sciences, Technology and Medicine, Stanford University Press, 2004, 19-42
"Bouchardon's British sitters: sculptural portraiture in Rome and the classicising bust around 1730″, Burlington Magazine, CXLII (2000), 752-762 (with Colin Harrison and Alastair Laing)
"Public Fame or Private Remembrance? The Portrait Bust as a Mode of Commemoration in Eighteenth-Century England", in Memory and Oblivion. Proceedings of the XXIXth International Conference of the History of Art held in Amsterdam, 1-7 September 1996, Amsterdam, Dordrecht , 1999, pp. 527-535
"Francis van Bossuit, Böttger Stoneware and the Judith Reliefs", in R. Kahsnitz & P. Volk, eds., Skulptur in Süddeutschland. Festschrift für Alfred Schädler, Munich, 1998, 281-294
"Limewood, Chiromancy and Narratives of Making. Writing about the Materials and Processes of Sculpture", Art History, 21(1998), 498-530
"The Ivory Multiplied: Small-scale Sculpture and its Reproductions in the Eighteenth Century", in A. Hughes and E. Ranfft, Sculpture and its reproductions, 1997, 61-78
"Bode and Museum Display: The Arrangement of the Kaiser-Friedrich Museum and the South Kensington Response", Jahrbuch der Berliner Museen, 58 (1996) Beiheft, 143-153
"The making of portrait busts in the mid-eighteenth century: Roubiliac, Scheemakers and Trinity College, Dublin", Burlington Magazine, 137 (1995), 821-831
"'Squabby cupids and clumsy graces': Garden Sculpture and Luxury in Eighteenth-Century England". Oxford Art Journal 18 (1995) 1-18
"The Portrait Sculpture' in D. McKitterick ed., The Making of the Wren Library, Trinity College, Cambridge, Cambridge, 1995, 110-137
"Roubiliac's Argyll monument and the interpretation of eighteenth-century sculptors' designs", Burlington Magazine, 134 (1992), 785-797
"'Odzooks! A man of stone'. Earth, Heaven and Hell in Eighteenth-Century Tomb Sculpture", in J. Miller (ed.), The Don Giovanni Book. Myths of Seduction and Betrayal, London, 1990, 62-69
"Lord Shelburne's 'costly fabrick': Scheemakers, Roubiliac and Taylor as rivals", Burlington Magazine, 132 (1990), 841-848
"Giambologna, Donatello and the sale of the Gaddi, Marucelli and Stosch bronzes", Städel Jahrbuch, N.F. 12 (1989), 179-194
"Roubiliac's models and 18th Century Sculptors' Working Practices" in P. Volk (ed.), Entwurf und Ausführung in der europäischen Barockskulptur, Munich, 1986, 133-146
"Sculpture for Palladian Interiors: Rysbrack's Reliefs and Their Setting", in K.Eustace (ed.), Michael Rysbrack, (exhibition catalogue), Bristol, 1982, 35-41
"William Beckford's Silver", Burlington Magazine, 122 (1980), 734-48 and 82-34 (written jointly with Michael Snodin).
"Giuseppe Mazza's 'Judgment of Paris'", Burlington Magazine, 121 (1979), 17-477
"Medieval Illustrations of Bede's Life of St Cuthbert", Journal of the Warburg and Courtauld Institutes, 41 (1978), 16-46
"Patrick Robertson's tea urn and the late 18th century Edinburgh silver trade", Connoisseur, 183 (1973), 289-94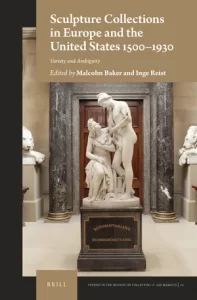 Sculpture Collections in Europe and the United States, 1500-1930
2021, BRILL, IN ASSOCIATION WITH THE FRICK COLLECTION
Malcolm Baker, co-editor
Exploring the variety of forms taken by collections of sculpture, this volume presents new research by twelve internationally recognized scholars. The essays delve into the motivations of different collectors, the modes of display, and the aesthetics of viewing sculpture, bringing to light much new archival material. The book underscores the ambiguous nature of sculpture collections, variously understood as decorative components of interiors or gardens, as objects of desire in cabinets of curiosity, or as autonomous works of art in private and public collections. Emphasizing the collections and the ways in which these were viewed and described, this book addresses a significant but neglected aspect of art collecting and contributes to the literature on this branch of art and cultural history.
This book evolved from a symposium "Sculpture Collecting and Display, 1600-2000," organized by the Center for the History of Collecting, that was held at The Frick Collection on May 19 and 20, 2017. Both the book and the symposium were made possible through the generous support of the Robert H. Smith Family Foundation.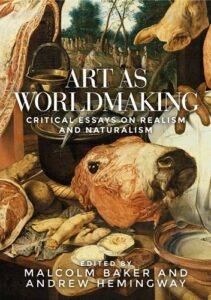 Art as Worldmaking: Critical Essays on Realism and Naturalism
2018, Manchester University Press
Malcolm Baker, co-editor
Art as Worldmaking is a response to Alex Potts's provocative 2013 book Experiments in modern realism. Twenty essays by leading scholars test Potts's recasting of realism through examinations of art produced in different media and periods, ranging from eighth-century Chinese garden aesthetics to video work by the contemporary Russian collective Radek Community. While the book does not neglect avatars of pictorial realism such as Menzel and Eakins, or the question of nineteenth-century realism's historical antecedents, it is contemporary in orientation in that many contributors are particularly concerned with the questions that sculpture, photography and non-traditional media pose for realism as an aesthetic norm. It will be essential reading for students of art history concerned with art's truth value or more broadly with conceptual problems of representation and the intersections of art and politics.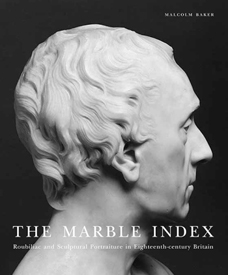 The Marble Index: Roubiliac and Sculptural Portraiture in Eighteenth-Century Britain
2015, New Haven and London: Yale University Press
Malcolm Baker, author
Providing the first thorough study of sculptural portraiture in 18th-century Britain, this important book challenges both the idea that portrait necessarily implies painting and the assumption that Enlightenment thought is manifest chiefly in French art. By considering the bust and the statue as genres, Malcolm Baker, a leading sculpture scholar, addresses the question of how these seemingly traditional images developed into ambitious forms of representation within a culture in which many core concepts of modernity were being formed. The leading sculptor at this time in Britain was Louis Francois Roubiliac (1702–1762), and his portraits of major figures of the day, including Alexander Pope, Isaac Newton, and George Frederic Handel, are examined here in detail. Remarkable for their technical virtuosity and visual power, these images show how sculpture was increasingly being made for close and attentive viewing. The Marble Index eloquently establishes that the heightened aesthetic ambition of the sculptural portrait was intimately linked with the way in which it could engage viewers familiar with Enlightenment notions of perception and selfhood.