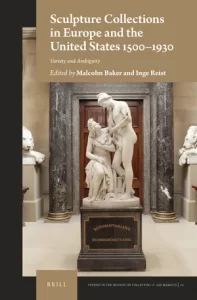 Sculpture Collections in Europe and the United States, 1500-1930
2021, Brill, in association with The Frick Collection
Malcolm Baker, co-editor
Exploring the variety of forms taken by collections of sculpture, this volume presents new research by twelve internationally recognized scholars. The essays delve into the motivations of different collectors, the modes of display, and the aesthetics of viewing sculpture, bringing to light much new archival material. The book underscores the ambiguous nature of sculpture collections, variously understood as decorative components of interiors or gardens, as objects of desire in cabinets of curiosity, or as autonomous works of art in private and public collections. Emphasizing the collections and the ways in which these were viewed and described, this book addresses a significant but neglected aspect of art collecting and contributes to the literature on this branch of art and cultural history.
This book evolved from a symposium "Sculpture Collecting and Display, 1600-2000," organized by the Center for the History of Collecting, that was held at The Frick Collection on May 19 and 20, 2017. Both the book and the symposium were made possible through the generous support of the Robert H. Smith Family Foundation.