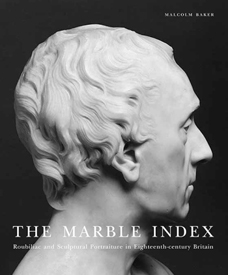 The Marble Index: Roubiliac and Sculptural Portraiture in Eighteenth-Century Britain
2015, New Haven and London: Yale University Press
Malcolm Baker, author
Providing the first thorough study of sculptural portraiture in 18th-century Britain, this important book challenges both the idea that portrait necessarily implies painting and the assumption that Enlightenment thought is manifest chiefly in French art.  By considering the bust and the statue as genres, Malcolm Baker, a leading sculpture scholar, addresses the question of how these seemingly traditional images developed into ambitious forms of representation within a culture in which many core concepts of modernity were being formed.  The leading sculptor at this time in Britain was Louis Francois Roubiliac (1702–1762), and his portraits of major figures of the day, including Alexander Pope, Isaac Newton, and George Frederic Handel, are examined here in detail.  Remarkable for their technical virtuosity and visual power, these images show how sculpture was increasingly being made for close and attentive viewing.  The Marble Index eloquently establishes that the heightened aesthetic ambition of the sculptural portrait was intimately linked with the way in which it could engage viewers familiar with Enlightenment notions of perception and selfhood.