Please consult the online course catalog for cross-listed courses and full course information.
Fall 2023 UNDERGRADUATE COURSES

AHS 007/World Art
This course is an introduction to the artistic achievements of the world's cultures and to the ways in which they can be viewed. It provides students with a sound understanding of major art works from all ages and corners of the world, and the theoretical concepts and historical circumstances to which they owe their existence. We ask questions such as: What is art? What is an artist? How has their perception changed over time? What is an image? Why does art exist? What is 'world art'? Why do we study art history?
CRN#: 36147
Meetings: Tuesday and Thursday, 12:30PM – 1:50PM
Place: Watkins 1000
AHS 008/Modern Western Visual Culture
CRN#: 36308
Meetings: Tuesday and Thursday, 11:00AM – 12:20PM
Place: Arts Screening Room 335

AHS 021/History of Architecture
CRN#: 10008
Meetings: Tuesday and Thursday, 11:00AM – 12:20PM
Place: Watkins 1000

AHS 135/Postmedia Art
CRN#: 36548
Meetings: Tuesday and Thursday, 1:00PM – 2:20PM
Place: Arts Screening Room 335

AHS 141/The Mongol Empire
CRN#: 36313
Meetings: Monday and Wednesday, 12:30PM – 1:50PM
Place: Arts Screening Room 335

AHS 179/American Art Between the Wars
This course provides an in-depth study of American art and visual culture in the early twentieth century with emphasis on the historical period bookended by the two world wars. During this time, American culture was in a state of flux continuously reshaped by a complicated mixture of social, ideological and aesthetic forces. The nature of this experience is perhaps best described by the term "modernity". Yet if the forms of the modern were heterogeneous and dynamic, so too were responses to them. Our goal will be to understand the central role played by visual expression in the complex and often contradictory articulations of American art and culture that took place during these years.
CRN#: 36312
Meetings: Monday and Wednesday, 11:00AM – 12:20PM
Place: Arts Screening Room 335

AHS 189E/Topics in Contemporary Art
CRN#: 34870
Meetings: Tuesday and Thursday, 5:00PM – 6:20PM
Place: Arts Screening Room 335

AHS 192/Junior-Senior Seminar
CRN#: 10037
Meetings: Tuesday, 1:00PM – 3:50PM
Place: Arts Seminar Room 333

FAll 2023 GRADUATE Level COURSES

AHS 251A/Proseminar in Historiography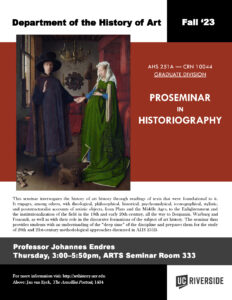 This seminar interrogates the history of art history through readings of texts that were foundational to it. It engages, among others, with theological, philosophical, historical, psychoanalytical, iconographical, stylistic, and poststructuralist accounts of artistic objects, from Plato and the Middle Ages, to the Enlightenment and the institutionalization of the field in the 19th and early 20th-century, all the way to Benjamin, Warburg and Foucault, as well as with their role in the discursive formations of the subject of art history. The seminar thus provides students with an understanding of the "deep time" of the discipline and prepares them for the study of 20th and 21st-century methodological approaches discussed in AHS 251B.
CRN#: 10004
Meetings: Thursday, 3:00PM – 5:50PM
Place: Arts Seminar Room 333
AHS 267/Seminar in Asian Art
CRN#: 36307
Meetings: Wednesday, 2:00PM – 4:50PM
Place: Arts Seminar Room 333

AHS 280/Seminar in Research, Critical Analysis and Thesis
CRN#: 10045
Meetings: Monday, 3:00PM – 5:50PM
Place: Arts Seminar Room 333

WINTER 2024 UNDERGRADUATE COURSES
AHS 017A/History of Western Art: Prehistoric to Byzatine
CRN#: 55631
Meetings: Monday and Wednesday, 6:30PM – 7:50PM
Place: Watkins 1000
AHS 023/Introduction to American Art
CRN#: 53622
Meetings: Monday and Wednesday, 3:30PM – 4:50PM
Place: Watkins 1000
AHS 028/Art and Architecture of Latin American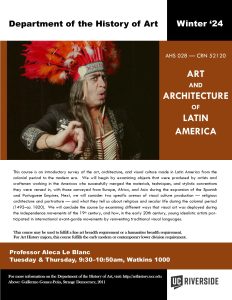 This course is an introductory survey of the art, architecture, and visual culture made in Latin America from the colonial period to the modern era. We will begin by examining objects that were produced by artists and craftsmen working in the Americas who successfully merged the materials, techniques, and stylistic conventions they were versed in, with those conveyed from Europe, Africa, and Asia during the expansion of the Spanish and Portuguese Empires. Next, we will consider two specific arenas of visual culture production — religious architecture and portraiture — and what they tell us about religious and secular life during the colonial period (1492–ca. 1820). We will conclude the course by examining different ways that visual art was deployed during the independence movements of the 19th century, and how, in the early 20th century, young idealistic artists par- ticipated in international avant-garde movements by reinventing traditional visual languages.
This course may be used to fulfill a fine art breadth requirement or a humanities breadth requirement. For Art History majors, this course fulfills the early modern or contemporary lower division requirement.
CRN#: 52120
Meetings: Tuesday and Thursday, 9:30AM-10:50AM
Place: Watkins 1000
AHS 030/Rome: The Ancient City
CRN#: 55625
Meetings: Tuesday and Thursday, 2:00PM – 3:20PM
Place: Watkins 1101
AHS 124/Conceptual Art in Latin America
When Brazilian artist Hélio Oiticica hung this banner on a street in Rio, it was to celebrate a local man who had been gunned down by the police, and "Seja marginal, seja herói," (Be an outlaw, be a hero) quickly became a rallying cry for his generation who opposed the military dictatorship. During the 1960s and 70s, many artists across the West turned away from conventional media, such as painting and sculpture, and dedicated their careers to undermining the power systems then in place with subversive work that privileged the concept over the composition. However, those who worked in cities like Santiago, Buenos Aires, São Paulo, Rio de Janeiro, Havana, and Mexico City, had to contend with the oppressive governments and without the protection of freedom of speech. Terms such as "Open work," "systems art," "arte de los medios," "information art," "anti-art," and "dematerialization" were used to describe the provocative work they were making that, rather than represent something — a person, a geometric pattern, the subconscious, an event in history — privileged the artist's concept and sought to communicate it to the public.
CRN#: 53800
Meetings: Tuesday and Thursday, 2:00PM-3:20PM
Place: Arts Screening Room 335
AHS 125/Illustrations and Illuminations: The Art of the Book in the Islamic World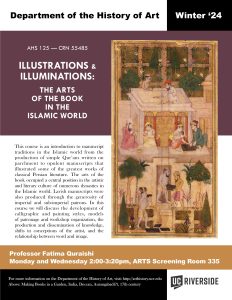 This course is an introduction to manuscript traditions in the Islamic world from the production of simple, undecorated Qur'ans written on parchment to opulent manuscripts that copied and illustrated some of the greatest works of classical Persian literature. The arts of the book came to occupy a central position in the artistic and literary culture of numerous dynastic empires in the Islamic world and lavish manuscripts were produced through the generosity of imperial and sub-imperial patrons. Through the history of manuscript production, we will touch upon topics that include the development of calligraphic and painting styles, models of patronage and workshop organization, the production and dissemination of knowledge, shifts in conceptions of the artist, and the relationship between word and image.
CRN#: 55485
Meetings: Monday and Wednesday, 2:00PM-3:20PM
Place: Arts Screening Room 335
AHS 158/Self-Portraits: Renaissance to Contemporary Art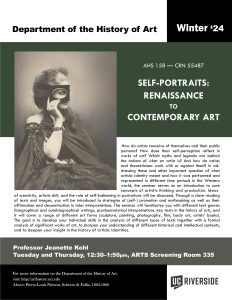 How do artists conceive of themselves and their public persona? How does their self-perception reflect in works of art? Which myths and legends are behind the notions of what an artist is? And how do artists and theoreticians work with or against them? In addressing these and other important question of what artistic identity meant and how it was performed and represented in different time periods in the Western world, the seminar serves as an introduction to core concepts of artistic thinking and production. Ideas of creativity, artistic skill, and the role of self-fashioning in portraiture will be discussed. Through a close reading of texts and images, you will be introduced to strategies of (self-) promotion and mythmaking as well as their affirmation and deconstruction in later interpretations. The seminar will familiarize you with different text genres (biographical and autobiographical writings, psychoanalytical interpretations. key texts in the history of art), and it will cover a range of different art forms (sculpture, painting, photography, film, body art, artists' books). The goal is to develop your individual skills in the analysis of different types of texts together with a formal analysis of significant works of art, to sharpen your understanding of different historical and intellectual contexts, and to deepen your insight in the history of artistic identities.
CRN#: 55487
Meetings: Tuesday and Thursday, 12:30PM-1:50PM
Place: Arts Screening Room 335
AHS 182/Visual Art and Theory After 1945
CRN#: 55486
Meetings: Tuesday and Thursday, 11:00AM-12:20PM
Place: Arts Screening Room 335
AHS 192/Junior-Senior Seminar
CRN#: 41569
Meetings: Thursday, 1:00PM-3:50PM
Place: Arts Seminar Room 333
WINTER 2024 GRADUATE-LEVEL COURSES
AHS 251B/Proseminar in Methodology
CRN#: 30042
Meetings: Tuesday, 9:00AM-11:50AM
Place: Arts Seminar Room 333
AHS 284/Seminar in Contemporary Art and Theory
CRN#: 55707
Meetings: Tuesday, 2:00PM-4:50PM
Place: Arts Seminar Room 333