Please consult the online course catalog for cross-listed courses and full course information.
Spring 2022 UNDERGRADUATE COURSES

AHS 017C/History of Western Art: Baroque to Modern
CRN#: 50008
Meetings: Tuesday and Thursday, 9:30AM – 10:50AM
Place: Watkins 1000

AHS 020/Introduction to Media Art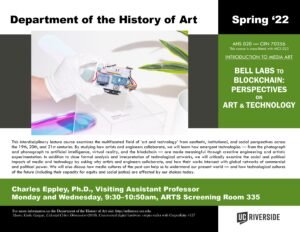 This interdisciplinary lecture course examines the multifaceted field of 'art and technology' from aesthetic, institutional, and social perspectives across the 19th, 20th, and 21st centuries. By studying how artists and engineers collaborate, we will learn how emergent technologies — from the photograph and phonograph to artificial intelligence, virtual reality, and the blockchain — are made meaningful through creative engineering and artistic experimentation. In addition to close formal analysis and interpretation of technological artworks, we will critically examine the social and political impacts of media and technology by asking why artists and engineers collaborate, and how their works intersect with global networks of commercial and political power. We will also discuss how media cultures of the past can help us to understand our present world — and how technological cultures of the future (including their capacity for equity and social justice) are affected by our choices today.
CRN#: 70356
Meetings: Monday and Wednesday, 9:30AM – 10:50AM
Place: ARTS 335

AHS 023/Introduction to American Art
CRN#: 69894
Meetings: Monday and Wednesday, 11:00AM – 12:20PM
Place: Watkins 1000

AHS 158/Self Portraits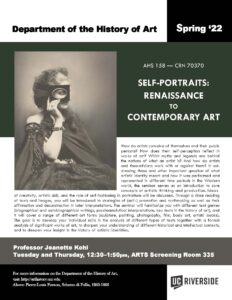 How do artists conceive of themselves and their public persona? How does their self-perception reflect in works of art? Which myths and legends are behind the notions of what an artist is? And how do artists and theoreticians work with or against them? In ad- dressing these and other important question of what artistic identity meant and how it was performed and represented in different time periods in the Western world, the seminar serves as an introduction to core concepts of artistic thinking and production. Ideas
of creativity, artistic skill, and the role of self-fashioning in portraiture will be discussed. Through a close reading of texts and images, you will be introduced to strategies of (self-) promotion and mythmaking as well as their affirmation and deconstruction in later interpretations. The seminar will familiarize you with different text genres (biographical and autobiographical writings, psychoanalytical interpretations. key texts in the history of art), and it will cover a range of different art forms (sculpture, painting, photography, film, body art, artists' books). The goal is to develop your individual skills in the analysis of different types of texts together with a formal analysis of significant works of art, to sharpen your understanding of different historical and intellectual contexts, and to deepen your insight in the history of artistic identities.
CRN#: 70370
Meetings: Tuesday and Thursday, 12:30PM – 1:50PM
Place: ARTS 335

AHS 182/Visual Art and Theory after 1945
CRN#: 68490
Meetings: Tuesday and Thursday, 11:00AM – 12:20PM
Place: ARTS 335

AHS 192/Junior-Senior Seminar
CRN#: 60057
Meetings: Monday, 1:00PM – 3:50PM
Place: ARTS 335

spring 2022 GRADUATE LEVEL COURSES

AHS 273/Seminar: Renaissance Art
CRN#: 69906
Meetings: Thursday, 3:00PM – 5:50PM
Place: ARTS 333

AHS 282/Seminar: New Media
This interdisciplinary graduate seminar examines the methods, theories, and values of art history through sound and listening. Expanding on the "ways of seeing" that tend to define the objects and methods of our discipline, we will theorize and model similar "ways of hearing" (and other modes of sensing) that are crucial for understanding and rethinking the history of modern and contemporary art. We will begin by examining depictions of music, sound, and silence in the 19th century, ranging from allegorical representations of musical performance to formal experiments with sonic abstraction and mediated noise. We will then follow the development of a 'sonic art history' through the 20th century, discussing how sonic strategies and technologies suffused prewar avant-garde movements like Futurism and Dada, and later evolved in the "dematerialized" postwar art of Fluxus, Judson dance, minimalism and conceptual art. However, rather than attempting to define "sound art" as a distinct movement that can be mapped onto existing art historical narratives, we will discuss how artists from the 1980s to today have moved against the visual hegemony of the white cube by incorporating sound and other non-visual sensations into their works. Laying the groundwork for a multisensory art history, we will use resonant methods and theories from disability studies, musicology, science and technology studies (STS), and other fields that can help us develop novel modes of formal analysis and social critique that address contemporary intermedia practice.
CRN#: 70371
Meetings: Wednesday, 2:00PM – 4:50PM
Place: ARTS 333

SUMMER 2022, SESSION A (June 20-july 23)

AHS 007-A01/World Art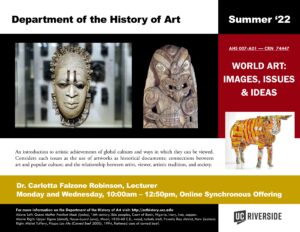 An introduction to artistic achievements of global cultures and ways in which they can be viewed. Considers such issues as the use of artworks as historical documents; connections between art and popular culture; and the relationship between artist, viewer, artistic tradition, and society.
CRN#: 74447
Meetings: Monday and Wednesday, 10:00AM – 12:50PM
Place: Online Synchronous Class

AHS 136-A01/ History of Video Art
Do you use TikToc? Do you watch online streaming shows?
Have you ever thought about videos being "art"?
Do you want to work in video production?
Have you ever seen a video in an art gallery and wondered what it was doing there?

If these questions caught your eye you need to take AHS 136: The History of Video Art this summer. This class looks at the origin of personal video, how it became and art form, and how it impacts society today. Class will utilize streaming videos and follow an asynchronous format.
CRN#: 74450
Meetings: Monday and Wednesday, 1:00PM – 3:50PM
Place: Online Synchronous Class

AHS 165-A01/Women Artists in Renaissance Europe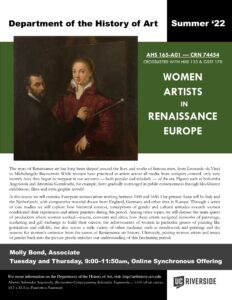 The story of Renaissance art has long been shaped around the lives and works of famous men, from Leonardo da Vinci to Michelangelo Buonarroti. While women have practiced as artists across all media from antiquity onward, only very recently have they begun to reappear in our accounts — both popular and scholarly — of the era. Figures such as Sofonisba Anguissola and Artemisia Gentileschi, for example, have gradually reemerged in public consciousness through blockbuster exhibitions, films and even graphic novels!
In this course we will examine European women artists working between 1400 and 1650. Our primary focus will be Italy and the Netherlands, with comparative material drawn from England, Germany and other sites in Europe. Through a series of case studies we will explore how historical context, conceptions of gender and cultural attitudes towards women conditioned their experiences and artistic practices during this period. Among other topics, we will discuss: the main spaces of production where women worked—courts, convents and cities; how these artists navigated networks of patronage, marketing and gift exchange to build their careers; the achievements of women in particular genres of painting like portraiture and still-life, but also across a wide variety of other mediums such as needlework and printing; and the reasons for women's omission from the canon of Renaissance art history. Ultimately, putting women artists and issues of gender back into the picture greatly enriches our understanding of this fascinating period.
CRN#: 74454
Meetings: Tuesday and Thursday, 9:00AM-11:50AM
Place: Online Synchronous Class

SUMMER 2022, SESSION B (July 25-august 27)
AHS 020-B01/Introduction to Media Art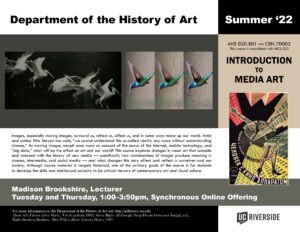 Images, especially
moving
images, surround us, reflect us, affect us, and in some ways make up our world. Artist and author Hito Steyerl has said, "we cannot understand this so-called reality any more without understanding cinema." As moving images morph once more on account of the nexus of the Internet, mobile technology, and "big data," what will be the effect on art and our world? This course explores changes in visual art that coincide and intersect with the history of new media — specifically how combinations of images produce meaning in cinema, intermedia, and social media — and what changes this may effect and reflect in ourselves and our society. Although course material is largely historical, one of the primary goals of the course is for students
to develop the skills and intellectual curiosity to be critical viewers of contemporary art and visual culture.
CRN#: 70002
Meetings: Tuesday and Thursday, 1:00PM – 3:50PM
Place: Online Synchronous Class

AHS 180-B01/Modern European Art: 19th century: 1789-1914
This course will study European art from French Revolution to the outbreak of the First World War. We will examine how artists responded to the political, social, and industrial revolutions occurring across Europe, and the emergence of a new Modern art. Topics covered will be Neoclassicism, Realism, Romanticism, Impressionism and Post Impressionism, architecture, sculpture and decorative art.
CRN#: 74009
Meetings: Monday and Wednesday, 10:00AM – 12:50PM
Place: Online Synchronous Class

FALL 2022 UNDERGRADUATE COURSES
AHS 013/Art & Architecture of the Islamic World
CRN#: 33949
Meetings: Tuesday and Thursday, 2:00PM – 3:20PM
Place: Arts Screening Room 335

AHS 017A/History of Western Art: Pre-Historic to Byzantine
CRN#: 10008
Meetings: Tuesday and Thursday, 11:00AM – 12:20PM
Place: Watkins 1000

AHS 021/Introduction to Architecture and Urbanism
CRN#: 33950
Meetings: Tuesday and Thursday, 11:00AM – 12:20PM
Place: Arts Screening Room 335

AHS 025/Art of Mesoamerica
Ancient Mesoamerica (today's Central America, Mexico, and the Southwest United States) boasted some of the world's largest cities, expansive trade routes, and complex systems of writing. Beginning with the Olmec in 1500 BCE, turning to the Maya and Teotihuacan, and ending with the fall of the Aztec Empire in 1521, this course examines how Mesoamerican cultures used art and architecture to craft a distinctive visual identity, forge sprawling empires and powerful city-states, and communicate with the gods. From ball courts to pyramids, and jade to feathers, the art and architecture of Mesoamerica tell a vivid story of cross-cultural exchange and artistic innovation. Through close analysis of objects, architectural plans, and historical texts, students will hone the ability to write cogently about what they see, as well as describe the place of Latin American antiquity in the crafting of modern political and social identities.
CRN#: 33951
Meetings: Monday and Wednesday, 9:30AM-10:50AM
Place: Arts Screening Room 335

AHS 115/Contemporary Art in Latin America
CRN#: 33952
Meetings: Monday and Wednesday, 3:30PM – 4:50PM
Place: Arts Screening Room 335

AHS 160/Renaissance Architecture
CRN#: 33953
Meetings: Tuesday and Thursday, 12:30PM – 1:50PM
Place: Arts 335

AHS 183/Photography on Display
CRN#: 33954
Meetings: Monday and Wednesday, 12:30PM – 1:50PM
Place: Arts 335

AHS 192/Junior-Senior Seminar
CRN#: 10037
Meetings: Monday, 2:00PM – 4:50PM
Place: Arts 333

Fall 2022 GRADUATE LEVEL COURSES

AHS 251A/Proseminar in Historiography
CRN#: 10044
Meetings: Thursday, 2:00PM – 4:50PM
Place: ARTS 333

AHS 263/Seminar in Islamic Art & Culture
CRN#: 34047
Meetings: Wednesday, 2:00PM – 4:50PM
Place: ARTS 333

AHS 280/Seminar in Research
CRN#: 10045
Meetings: Monday, 11:00AM – 1:50PM
Place: ARTS 333