Please consult the online course catalog for cross-listed courses and full course information.
Summer 2020 Session a (June 22-July 25)

AHS 020-A01/Introduction to Media Art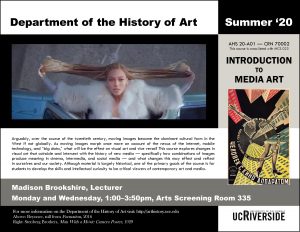 Arguably, over the course of the twentieth century, moving images became the dominant cultural form in the West if not globally. As moving images morph once more on account of the nexus of the Internet, mobile technology, and "big data," what will be the effect on visual art and vice versa? This course explores changes in visual art that coincide and intersect with the history of new media — specifically how combinations of images produce meaning in cinema, intermedia, and social media — and what changes this may effect and reflect in ourselves and our society. Although material is largely historical, one of the primary goals of the course is for students to develop the skills and intellectual curiosity to be critical viewers of contemporary art and media.
CRN#: 70002
Meetings: Monday and Wednesday, 1:00PM – 3:50PM
Place: ARTS 335

AHS 180-A01/Modern European Art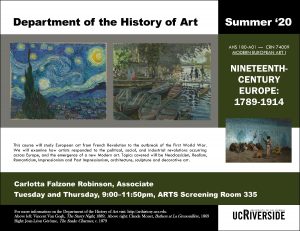 This course will study European art from French Revolution to the outbreak of the First World War. We will examine how artists responded to the political, social, and industrial revolutions occurring across Europe, and the emergence of a new Modern art. Topics covered will be Neoclassicism, Realism, Romanticism, Impressionism and Post Impressionism, architecture, sculpture and decorative art.
CRN#: 74009
Meetings: Tuesday and Thursday, 9:00AM – 11:50AM
Place: ARTS 335

Summer 2020 Session B (July 27-Jaugust 29)

AHS 021-B01/Introduction to Architecture and Urbanism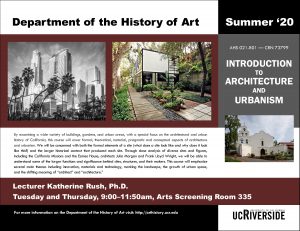 By examining a wide variety of buildings, gardens, and urban areas, with a special focus on the architectural and urban history of California, this course will cover formal, theoretical, material, pragmatic and conceptual aspects of architecture and urbanism. We will be concerned with both the formal elements of a site (what does a site look like and why does it look like this?) and the larger historical context that produced each site. Through close analysis of diverse sites and figures, including the California Missions and the Eames House, architects Julia Morgan and Frank Lloyd Wright, we will be able to understand some of the larger functions and significance behind sites, structures, and their makers. This course will emphasize several main themes including innovation, materials and technology, marking the landscape, the growth of urban space, and the shifting meaning of "architect" and "architecture."
CRN#: 73799
Meetings: Tuesday and Thursday, 9:00AM – 11:50AM
Place: ARTS 335

AHS 182-B01/Visual Art and Theory After 1945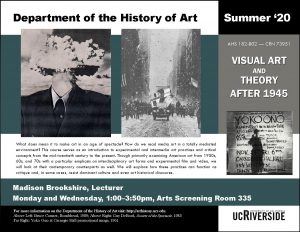 What does mean it to make art in an age of spectacle? How do we read media art in a totally mediated environment? This course serves as an introduction to experimental and intermedia art practices and critical concepts from the mid-twentieth century to the present. Though primarily examining American art from 1950s, 60s, and 70s with a particular emphasis on interdisciplinary art forms and experimental film and video, we will look at their contemporary counterparts as well. We will explore how these practices can function as critique and, in some cases, resist dominant culture and even art historical discourse.
CRN#: 73951
Meetings: Monday and Wednesday, 1:00PM – 3:50PM
Place: ARTS 335

FALL 2020 UNDERGRADUATE COURSES

AHS 007/World Art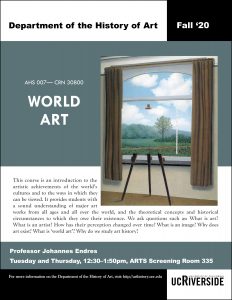 This course is an introduction to the artistic achievements of the world's cultures and to the ways in which they can be viewed. It provides students with a sound understanding of major art works from all ages and all over the world, and the theoretical concepts and historical circumstances to which they owe their existence. We ask questions such as: What is art? What is an artist? How has their perception changed over time? What is an image? Why does art exist? What is 'world art'? Why do we study art history?
CRN#: 30800
Meetings: Tuesday and Thursday, 12:30PM – 1:50PM
Place: ARTS 335

AHS 008/Modern Western Visual Culture
CRN#: 22981
Meetings: Tuesday and Thursday, 2:00PM – 3:52PM
Place: Online Synchronous Offering

AHS 017A/Western Art: Prehistoric to Byzantine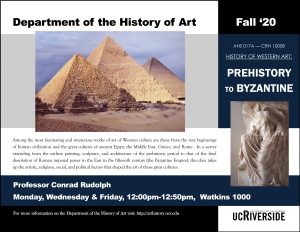 Among the most fascinating and mysterious works of art of Western culture are those from the very beginnings of human civilization and the great cultures of ancient Egypt, the Middle East, Greece, and Rome. In a survey extending from the earliest painting, sculpture, and architecture of the prehistoric period to that of the final dissolution of Roman imperial power in the East in the fifteenth century (the Byzantine Empire), this class takes up the artistic, religious, social, and political factors that shaped the art of those great cultures.
CRN#: 10008
Meetings: Monday, Wednesday, and Friday, 12:00PM – 12:50PM
Place: WAT 1000

AHS 028/Art and Architecture of Latin America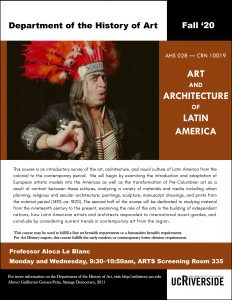 This course is an introductory survey of the art, architecture, and visual culture of Latin America from the colonial to the contemporary period. We will begin by examining the introduction and adaptation of European artistic models into the Americas as well as the transformation of Pre-Columbian art as a result of contact between these cultures, analyzing a variety of materials and media including urban planning, religious and secular architecture, paintings, sculpture, manuscript drawings, and prints from the colonial period (1492–ca. 1820). The second half of the course will be dedicated to studying material from the nineteenth century to the present, examining the role of the arts in the building of independent nations, how Latin American artists and architects responded to international avant-gardes, and conclude by considering current trends in contemporary art from the region.
This course may be used to fulfill a fine art breadth requirement or a humanities breadth requirement.
For Art History majors, this course fulfills the early modern or contemporary lower division requirement.
CRN#: 10019
Meetings: Monday and Wednesday, 9:30AM – 10:50AM
Place: ARTS 335

AHS 115/Modern and Contemporary Latin American Art
In 1516, the Renaissance humanist Thomas More coined the term "utopia" when he published a book by the same name in Belgium. This course takes More's concept of an ideal society as its jumping off point to consider how utopian aspirations have been imagined and implemented throughout Latin America and across the twentieth century in the visual arts and architecture. Why is it that this geographical region has repeatedly provided such fertile ground for so many of these experiments? In addition to the images we see in class, historical documents – tracts, manifestos and urban plans written by artists, theorists, poets, architects – will be integral to our interpretation of this material. We will combine our study of documents and close visual analysis of artworks with secondary literature that contextualizes these experiments within their social and political conditions. Among others, some of the movements we will consider are muralism, Universal Constructivism, Arte Madí, kinetic art, as well as modernist architecture in Brasília and Havana, and universities in Caracas and Mexico City.
CRN#: 30804
Meetings: Monday and Wednesday, 12:30PM – 1:50PM
Place: ARTS 335

AHS 126/Sultans and Saints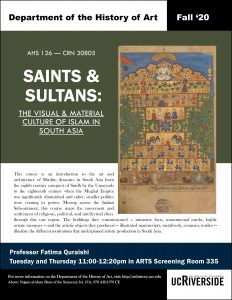 This course is an introduction to the art and architecture of Muslim dynasties in South Asia from the eighth century conquest of Sindh by the Umayyads to the eighteenth century when the Mughal Empire was significantly diminished and other, smaller polities were coming to power. Moving across the Indian Subcontinent, this course maps the movement and settlement of religious, political, and intellectual elites through this vast region. The buildings they commissioned — immense forts, monumental tombs, highly ornate mosques — and the artistic objects they produced — illustrated manuscripts, metalwork, ceramics, textiles —illustrate the different motivations that underpinned artistic production in South Asia.
CRN#: 30805
Meetings: Tuesday and Thursday, 11:00AM – 12:20PM
Place: ARTS 335

AHS 155/Cultures and Conflict: Art of the Roman Empire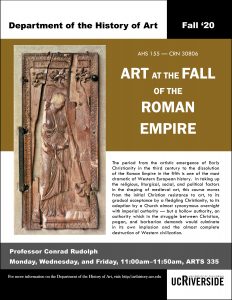 The period from the artistic emergence of Early Christianity in the third century to the dissolution of the Roman Empire in the fifth is one of the most dramatic of Western European history. In taking up the religious, liturgical, social, and political factors in the shaping of medieval art, this course moves from the initial Christian resistance to art, to its gradual acceptance by a fledgling Christianity, to its adoption by a Church almost synonymous overnight with imperial authority — but a hollow authority, an authority which in the struggle between Christian, pagan, and barbarian demands would culminate in its own implosion and the almost complete destruction of Western civilization.
CRN#: 30806
Meetings: Monday, Wednesday, and Friday, 11:00AM-11:50AM
Place: ARTS 335
AHS 192/Junior-Senior Seminar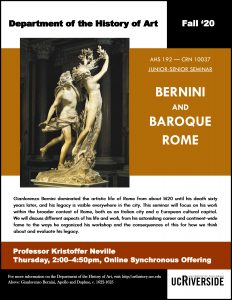 Gianlorenzo Bernini dominated the artistic life of Rome from about 1620 until his death sixty years later, and his legacy is visible everywhere in the city. This seminar will focus on his work
within the broader context of Rome, both as an Italian city and a European cultural capital. We will discuss different aspects of his life and work, from his astonishing career and continent-wide fame to the ways he organized his workshop and the consequences of this for how we think about and evaluate his legacy.
CRN#: 10037
Meetings: Thursday, 2:00PM – 4:50PM
Place: Online Synchronous Offering

FALL 2020 GRADUATE LEVEL COURSES

AHS 251A/Proseminar in Historiography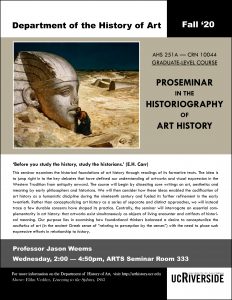 This seminar examines the historical foundations of art history through readings of its formative texts. The idea is to jump right in to the key debates that have defined our understanding of artworks and visual expression in the Western Tradition from antiquity onward. The course will begin by dissecting core writings on art, aesthetics and meaning by early philosophers and historians. We will then consider how these ideas enabled the codification of art history as a humanistic discipline during the nineteenth century and fueled its further refinement in the early twentieth. Rather than conceptualizing art history as a series of separate and distinct approaches, we will instead trace a few durable concerns have shaped its practice. Centrally, the seminar will interrogate an essential complementarity in art history: that artworks exist simultaneously as objects of living encounter and artifacts of historical meaning. Our purpose lies in examining how foundational thinkers balanced a desire to conceptualize the aesthetics of art (in the ancient Greek sense of "relating to perception by the senses") with the need to place such expressive efforts in relationship to history.
CRN#: 10044
Meetings: Wednesday, 2:00PM – 4:50PM
Place: Online Synchronous Offering

AHS 260/Seminar in Latin American Art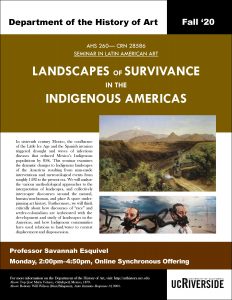 Landscapes of Survivance in the Indigenous Americas
In sixteenth century Mexico, the confluence of the Little Ice Age and the Spanish invasion triggered drought and waves of infectious diseases that reduced Mexico's Indigenous populations by 85%. This seminar examines the dramatic changes to Indigenous landscapes of the Americas resulting from man-made interventions and meteorological events from roughly 1492 to the present era. We will analyze the various methodological approaches to the interpretation of landscapes, and collectively interrogate discourses around the natural, human/non-human, and place & space underpinning art history. Furthermore, we will think critically about how discourses of "race" and settler-colonialism are imbricated with the development and study of landscapes in the Americas, and how Indigenous communities have used relations to land/water to contest displacement and dispossession.
CRN#: 28586
Meetings: Monday, 2:00PM – 4:50PM
Place: Online Synchronous Offering

AHS 267/Seminar in Asian Art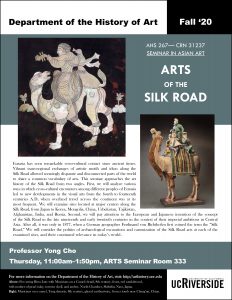 Arts of the Silk Road
Eurasia has seen remarkable cross-cultural contact since ancient times. Vibrant trans-regional exchanges of artistic motifs and ideas along the Silk Road allowed seemingly disparate and disconnected parts of the world to share a common vocabulary of arts. This seminar approaches the art history of the Silk Road from two angles. First, we will analyze various ways in which cross-cultural encounters among different peoples of Eurasia led to new developments in the visual arts from the fourth to fourteenth centuries A.D, when overland travel across the continent was at its most frequent. We will examine sites located at major centers along the Silk Road, from Japan to Korea, Mongolia, China, Uzbekistan, Tajikistan, Afghanistan, India, and Russia. Second, we will pay attention to the European and Japanese invention of the concept of the Silk Road in the late nineteenth and early twentieth centuries in the context of their imperial ambitions in Central Asia. After all, it was only in 1877, when a German geographer Ferdinand von Richthofen first coined the term the "Silk Road." We will consider the politics of archaeological excavations and canonization of the Silk Road arts at each of the examined sites, and their continued relevance in today's world.
CRN#: 31237
Meetings: Thursday, 11:00AM – 1:50PM
Place: Online Synchronous Offering

AHS 280/Seminar in Research
CRN#: 10045
Meetings: Tuesday, 2:00PM – 4:50PM
Place: ARTS 333