Please consult the online course catalog for cross-listed courses and full course information.
WINTER 2023 UNDERGRADUATE COURSES
AHS 010S/Topics in Art & Architecture History
CRN#: 53787
Meetings: Monday and Wednesday, 9:00AM – 10:20AM
Place: Arts Screening Room 335

AHS 017B/History of Western Art: Medieval to Renaissance
CRN#: 30012
Meetings: Tuesday and Thursday, 9:30AM – 10:50AM
Place: Watkins 1000

AHS 023/Introduction to American Art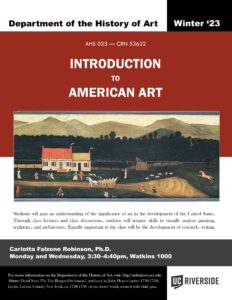 Students will gain an understanding of the significance of art in the development of the United States. Through class lectures and class discussions, students will acquire skills to visually analyze painting, sculpture, and architecture. Equally important to the class will be the development of research, writing, and critical-thinking skills.
CRN#: 53622
Meetings: Monday and Wednesday, 3:30PM – 4:50PM
Place: Watkins 1000

AHS 028/Art and Architecture of Latin America
This course is an introductory survey of the art, architecture, and visual culture of Latin America from the colonial to the contemporary period. We will begin by examining the introduction and adaptation of European artistic models into the Americas as well as the transformation of Pre-Columbian art as a result of contact between these cultures, analyzing a variety of materials and media including urban planning, religious and secular architecture, paintings, sculpture, manuscript drawings, and prints from the colonial period (1492–ca. 1820). The second half of the course will be dedicated to studying material from the nineteenth century to the present, examining the role of the arts in the building of independent nations, how Latin American artists and architects responded to international avant-gardes, and conclude by considering current trends in contemporary art from the region.
This course may be used to fulfill a fine art breadth requirement or a humanities breadth requirement.
For Art History majors, this course fulfills the early modern or contemporary lower division requirement.
CRN#: 52120
Meetings: Monday and Wednesday, 5:30PM-6:50PM
Place: Arts Screening Room 335

AHS 113/Sixteenth-Century Mexico: An Art of Two Worlds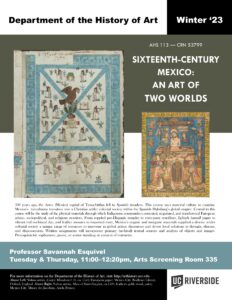 500 years ago, the Aztec (Mexica) capital of Tenochtitlan fell to Spanish invaders. This course uses material culture to examine Mexico's tumultuous transition into a Christian settler colonial society within the Spanish Habsburg's global empire. Central to this course will be the study of the physical materials through which Indigenous communities contested, negotiated, and transformed European artistic, sociopolitical, and religious practices. From toppled pre-Hispanic temples to corn-paste crucifixes, fig-bark (amatl) paper to vibrant red cochineal dye, and feather mosaics to imported ivory, Mexico's organic and inorganic materials supplied a diverse colonial society a unique range of resources to intervene in global artistic discourses and devise local solutions to drought, disease, destruction, and dispossession. Written assignments will incorporate primary (archival) textual sources and analysis of objects and images.
Prerequisite(s): sophomore, junior, or senior standing; or consent of instructor.
CRN#: 53799
Meetings: Tuesday and Thursday, 11:00AM – 12:20PM
Place: Arts Screening Room 335

AHS 124/Contemporary Art in Latin America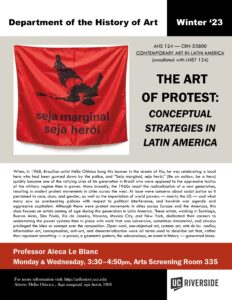 The Art of Protest: Conceptual Strategies in Latin America
When, in 1968, Brazilian artist Hélio Oiticica hung this banner in the streets of Rio, he was celebrating a local hero who had been gunned down by the police, and "Seja marginal, seja herói," (Be an outlaw, be a hero) quickly became one of the rallying cries of his generation in Brazil who were opposed to the oppressive tactics of the military regime then in power. More broadly, the 1960s recall the radicalization of a new generation, resulting in student protest movements in cities across the west. At issue were concerns about social justice as it pertained to race, class, and gender, as well as the imperialism of world powers — mainly the US — and what many saw as overbearing policies with respect to political interference, and hawkish war agenda and aggressive capitalism. Although there were protest movements in cities across Europe and the Americas, this class focuses on artists coming of age during this generation in Latin America. These artists, working in Santiago, Buenos Aires, São Paulo, Rio de Janeiro, Havana, Mexico City, and New York, dedicated their careers to undermining the power systems then in place with work that was subversive, sometimes immaterial, and always privileged the idea or concept over the composition. Open work, non-objectual art, systems art, arte de los medios, information art, conceptualism, anti-art, and dematerialization were all terms used to describe art that, rather than represent something — a person, a geometric pattern, the subconscious, an event in history — generated ideas.
AHS 126/Sultans and Saints: The Visual and Material Culture of Islam in South Asia
This course is an introduction to the art and architecture of Muslim dynasties in South Asia from the eighth century conquest of Sindh by the Umayyads to the eighteenth century when the Mughal Empire was significantly diminished and other, smaller polities were coming to power. Moving across the Indian Subcontinent, this course maps the movement and settlement of religious, political, and intellectual elites through this vast region. We will explore the buildings they commissioned—immense forts, monumental tombs, highly ornate mosques—and the artistic objects they produced—illustrated manuscripts, metalwork, ceramics — to illustrate the different motivations that underpinned artistic production.
CRN#: 53801
Meetings: Tuesday and Thursday, 2:00PM – 3:20PM
Place: Arts Screening Room 335
AHS 144/Arts of Japan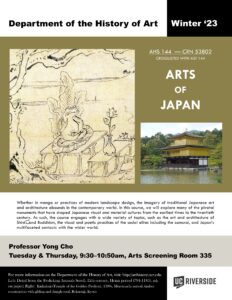 Whether in manga or practices of modern landscape design, the imagery of traditional Japanese art and architecture abounds in the contemporary world. In this course, we will explore many of the pivotal monuments that have shaped Japanese visual and material cultures from the earliest times to the twentieth century. As such, the course engages with a wide variety of topics, such as the art and architecture of Shintō and Buddhism, the visual and poetic practices of the social elites including the samurai, and Japan's multifaceted contacts with the wider world.
CRN#: 53802
Meetings: Tuesday and Thursday, 9:30AM – 10:50AM
Place: Arts 335
AHS 167/Europe in the Early Modern World: Global Artistic Contact and Exchange, 1492-1750
CRN#: 53803
Meetings: Tuesday and Thursday, 8:00AM – 9:20AM
Place: Arts Screening Room 335
AHS 192/Junior-Senior Seminar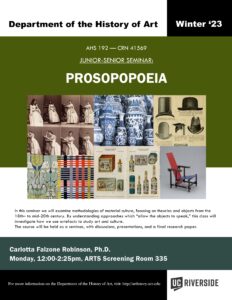 Prosopopoeia
In this seminar we will examine methodologies of material culture, focusing on theories and objects from the 18th– mid 20th century. By understanding approaches which "allow the objects to speak," this class will investigate how we use artefacts to study art and culture. The course will be held as a seminar, with discussions, presentations, and a final research paper.
CRN#: 41569
Meetings: Monday, 12:00PM – 2:50PM
Place: Arts Seminar Room 333
WINTER 2023 GRADUATE LEVEL COURSES

AHS 251B/Proseminar in Methodology
CRN#: 30044
Meetings: Tuesday, 2:00PM – 4:50PM
Place: ARTS 333

AHS 283/Seminar in the History of Photography
CRN#: 52126
Meetings: Wednesday, 2:00PM – 4:50PM
Place: ARTS 333

AHS 280/Seminar in Research
CRN#: 10045
Meetings: Monday, 11:00AM – 1:50PM
Place: ARTS 333