The Department of Art History has three awards that support graduate student research travel. A call is announced each year in the Winter term for applicants. Each year (usually in the spring term) the previous year's recipients present talks on their research.
Barbara B. Brink Graduate Travel Award provides travel support for one graduate student in the History of Art.
The Richard G. Carrott Endowed Memorial Student Support Fund provides travel support for one graduate or undergraduate student in the History of Art.
The Françoise Forster-Hahn Graduate Travel Award will be presented each spring quarter used to fund independent research traveling during the summer for one graduate student in the History of Art.
Current Lecture Series: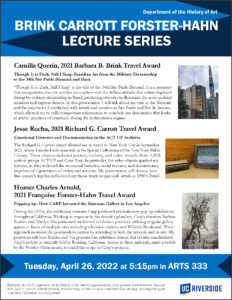 Recent Awardees:
Camilla Querin, 2021 Barbara B. Brink Travel Award
Though It is Dark, Still I Sing: Brazilian Art from the Military Dictatorship to the 34th São Paulo Biennial and Back
"Though It Is Dark, Still I Sing" is the title of the 34th São Paulo Biennial. It is a sentence that encapsulates also the somber atmosphere and the defiant attitude that artists displayed during the military dictatorship in Brazil, producing artworks to illuminate the socio-political situation and express dissent. In this presentation I will talk about my visit to the Biennial and the interviews I conducted with artists and curators in São Paulo and Rio de Janeiro, which allowed me to collect important information to conclude my dissertation that looks at artistic practices of resistance during the authoritarian regime.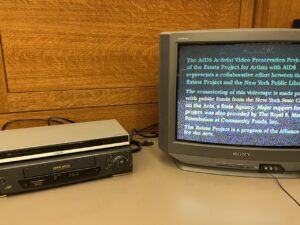 Jesse Rocha, 2021 Richard G. Carrott Travel Award
Emotional Histories and Documentation in the ACT UP Archives

The Richard G. Carrott award allowed me to travel to New York City in September 2021, where I worked with materials in the Special Collections of the New York Public Library. These objects included posters, stickers, and video records from AIDS activist groups ACT UP and Gran Fury. In particular, the video objects sparked my interest, as they reflected the emotional histories, social textures, and documentary impulses of a generation of artists and activists. My presentation will discuss how this research trip has influenced my thesis work on gay male artists in 1980's Brazil.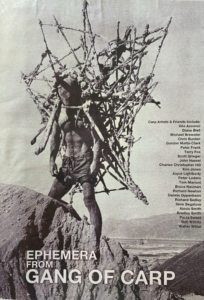 Homer Charles Arnold, 2021 Françoise Forster-Hahn Travel Award
Popping up: How CARP Invented the Itinerant Gallery in Los Angeles

During the 1970s, the exhibition initiative Carp produced revolutionary pop-up exhibitions throughout California. Working in response to the decade's pluralism, Carp's directors Barbara Burden and Marilyn Nix jettisoned traditional exhibition practices utilizing singular gallery spaces in favor of multiple sites including television stations and Wilshire Boulevard. Their approach invented the postmodern curator by attending to both the artwork and its site. My project reveals how Burden and Nix generated an exhibition format that became standardized. Carp's archive is currently held in Redding, California. Access to these materials, made possible by the Forster-Hahn award, revealed the scope of Carp's projects.
---
Savannah Dearhamer [2019 Barbara B. Brink Travel Award]
The Corpse Ballet: Madame d'Ora's Slaughterhouse Photographs
Between 1949 and 1958, the photographer Dora Kallmus (Austrian, 1882–1963) known as Madame d'Ora, undertook a photography project in the slaughterhouses of Paris. Of the series, nearly two hundred photographs were printed and have until recently been considered in a strict context of post-WWII trauma or as gestures of empathy. This study examines the relationship of d'Ora's Slaughterhouse Series to a postwar critique of theatrical spectacle in the aftermath of Nazi occupation. The majority of archives surrounding the Slaughterhouse Series is held at the
Museum für Kunst und Gewerbe in Hamburg, Germany. Access of these materials, made possible by the Barbara Brink Research award, revealed a direct link between d'Ora's final two photography projects: those taken at the Paris Ballet as well as the slaughterhouses. These findings will be explored in the talk.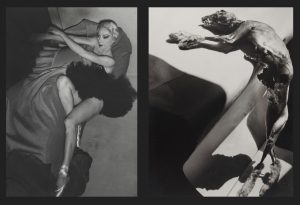 Daniel Powazek [2019 Richard G. Carrott Travel Award]
International Projects with a Local Emphasis: Collecting and Representing Saxon Identity in the Dresden Kunstkammer and Princely Monuments in Freiberg Cathedral
My thesis explores the material aspects of two sculptural and architectural monuments in Freiberg Cathedral, built in the mid- to late-sixteenth century and located in southeast Germany, and the collecting practices of its patrons, the first Ernestine Electors of Saxony. I situate the monuments and collections in the greater European context, establishing the interconnected patterns of patronage and collecting, then discussing the specific approaches the Dresden rulers chose and their possible motives for doing so. The Richard G. Carrott Memorial Fund Award
provided me the opportunity to visit Dresden and the surrounding region of Saxony last summer to conduct primary research on site for my thesis while still in its formative stages. My trip to Dresden allowed me to study and view up close the large-scale sculptural projects and sumptuous collections of the Saxon nobility. The region contains a particularly rich pool of early Lutheran, and not so Lutheran, artworks, from the princely treasury and art collection of the Staatliche Kunstmuseum in Dresden to remote private chapels housing monumental stone altarpieces. The personal exploration of the region's works, especially the projects and collections of the Saxon Dukes and Electors that served as my primary subjects, ultimately helped to focus both scope and methodology of my thesis.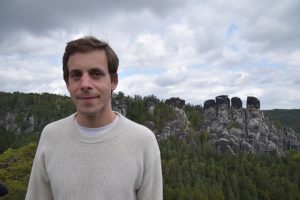 ---
Camilla Querin [2018 Richard G. Carrott Travel Award]
Where are the Blacks? On the Importance of Afro-Brazilian Culture and Its Marginalization in Mainstream Art
My dissertation investigates art produced in Brazil during the military dictatorship (1964-1985). In particular, I use the figure of the malandro (trickster), so central to the understanding of Brazilian culture, to interpret many of the strategies and conceptual practices devised by the artists to circumvent censorship and circulate subversive messages during one of the most repressive times of Brazilian history. The malandro is someone who cleverly bends rules and out-smarts social conventions to oppose adversities. My research is informed by a thorough understanding of this figure and his Afro-Brazilian origins. In my analysis of malandragem (trickery) in the visual arts I recuperate the origin of the malandro and emphasize the important impact that Afro-Brazilian culture had on the visual production by non-Afro-Brazilian artists during the dictatorship. Through the support of the Carrott Award, in the summer 2018 I visited the exhibition Afro-Atlantic Histories at the São Paulo Museum of Art (MASP), which explored the visual cultures of what Paul Gilroy called the Black Atlantic, result of centuries of colonization. I also attended a series of workshops on the marginalization of Black people and Black artists from mainstream institutions (Onde Estão Ox Negrxs) and interviewed artists, curators, and historians on the concept of malandragem in Afro-Brazilian culture.
---
Angela Lessing [2018 Barbara B. Brink Travel Award]
Responsibilities of the Imagination: Ruminations and Relationships in Graciela Iturbide's Juchitán de las Mujeres
My thesis, Responsibilities of the Imagination: Ruminations and Relationships in Graciela Iturbide's Juchitán de las Mujeres, examines the photographs of Magnolia, the muxe participant in Graciela Iturbide's decade long series Juchitán de las Mujeres. My project is driven by critique in regard to the depiction of gender identity and documentary photography and their intersections with dominant discourses about indigeneity, gender, and nationalism. The Barbara B. Brink Travel Award afforded me the opportunity to visit Juchitán de Zaragoza, Oaxaca this past summer to conduct primary research on the muxe. My trip to Juchitán allowed me to interact with the community, discuss my academic intentions, and intersect contemporary information regarding the muxe, which ultimately helped further define my project.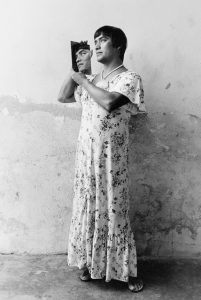 ---
Shannon Dailey [2018 Richard G. Carrott Travel Award]
Framing Guinevere: Scottish Nationalism, Feminism, and Figuration in Jessie M. King's Illustrations of The Defence of Guenevere and other Poems
My thesis examines the representation of the character Guinevere in the 1904 edition of William Morris' The Defence of Guenevere and other Poems, designed by Glaswegian book illustrator Jessie Marion King. I am interested in how King's Arthurian illustrations can be situated – and read– within a larger context of nationalism and feminism in nineteenth and early-twentieth-century Scotland, in order to better understand shifting notions of post-union Scottish identity, the role of women in articulating the visual rhetoric of this identity, and implications of gender conventions within nationalist discourse. The Richard G. Carrott Travel Award enabled me to conduct vital primary research in Scotland. At the University of St Andrews' Special Collections Library, I was able to work closely with their copy of the 1904 Defence of Guenevere, which I then compared to other examples of King's book designs in the holdings of the National Library of Scotland. I gained invaluable insight into King's life by visiting the University of Glasgow archive, which maintains an extensive undigitized collection of King's papers, manuscripts, and personal correspondences. In addition, I visited the Glasgow School of Art archive – where King studied and taught – and was able to develop an understanding of her artistic career as well as her work's reception and reputation within Scotland.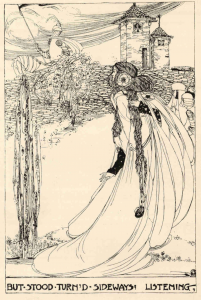 ---
Timothy Lithgow [2017 Richard G. Carrott Travel Award]
George Dureau: A Louisiana Artist
Artist George Dureau (1930 – 2014) lived in the French Quarter throughout his life. There he was embraced for his art, eccentricity and hospitality; a community fixture and self-defined homosexual. Working in diverse media, often with neo-classical themes, he is best-known for his photography. After serving in WWII he obtained a fine arts degree in painting. In the 1960s, Dureau began to make art photographs. By the early 1970s he amassed photographic work with three inter-related themes: portraits of neighbors in street clothing; male nudes, and, images of the physically disabled.
Today, Dureau is best-known for influencing photographer Robert Mapplethorpe (1946 – 1989). A generation younger than Dureau, Mapplethorpe's early work co-mingled religious altars and pornographic imagery. In the 1970s, Mapplethorpe turned to photography and during this period he sought out Dureau, flying to Louisiana to meet the artist. This coincided with a transition in Mapplethorpe's work towards the classical-themed nudes for which he is famous. The interplay between Dureau and Mapplethorpe is under-documented in academic literature. Yet, the least-explored aspect of Dureau's work is to me the most engaging, his work with the physically disabled, a portion of his work that is often simply omitted. The Carrott award allowed me to travel to Louisiana and research this fascinating artist.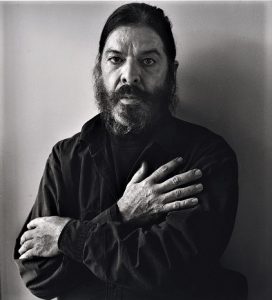 ---
Lily Allen [2017 Barbara B. Brink Travel Award]
"Eternal Sunlight" of 1909: Examining the Appeal of Joaquín Sorolla's First U.S. Exhibition
What were the reasons and what was the implication behind the immense success of Valencian painter Joaquin Sorolla's first U.S. exhibition, which toured Boston, Buffalo and New York City in the winter of 1909? These questions drive my MA thesis, Eternal Sunlight of 1909, completed in spring 2018. The summer before, the Brink grant allowed me to travel to Madrid—the seat of Sorolla's artistic practice—to consult a variety of archival materials that helped inform my answers. At the Biblioteca Nacional and government archives, I perused periodicals and diplomatic correspondence that testified to Sorolla's importance as a symbol of national success at a time when Spaniards were reeling with doubt after the collapse of their Golden-Age empire. At the Museo Sorolla, formerly the artist's home, I gained insight—through photos, clothing, decor and personal correspondence—into how the artist saw himself and presented himself to the world. All of this was vital to my accurate understanding of Sorolla in his personal and national context—helping me trace the ways his work was re-interpreted and re-valuated as it moved from one side of the Atlantic to the other.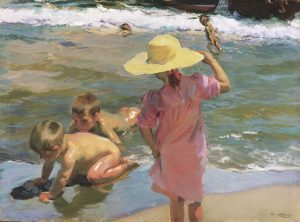 ---
Cynthia Neri Lewis [2017 Richard G. Carrott Travel Award]
"Illuminated Walls of the California Missions"
From 1936-1942, in their attempt to construct an indigenous "usable past" for modern American artists to draw from, the federally-sponsored Index of American Design created over five hundred photographs and watercolor renderings of selected California mission mural programs and architectural details. Many of the missions would later undergo wall painting restorations based on the images the Index produced. In my dissertation, "Illuminated Walls of the Alta California Missions," I explore the political and cultural conditions in which these 20th-century documentations, restorations and re-creations took place. A vital step was to conduct a thorough inventory and visual analysis of the physical Index materials. Through the support of the Carrott Award, I visited the National Gallery in Washington, D.C., where these have been stored since the 1940s and remained largely unstudied. After comparing the colorful Index renderings with historical photographs in the Archives of American Art Ferdinand Perret files and studying hand-written notations and typed Index reports attached to the backs of the watercolors, I gained valuable insight into the Index's careful selection, re-coloring, appropriation and re-creation of the painted wall designs—processes through which California mission art was inserted into the national visual discourses of the interwar era.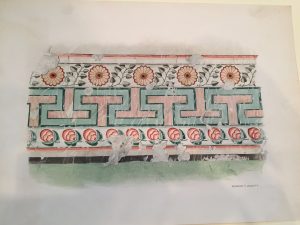 Edward Jewett, Wall Painting at Mission Santa Ines, watercolor rendering, 1939
Index of American Design Southern California Project, 1943.8.59887, National Gallery of Art, Washington, D.C.
---
Carlotta Falzone Robinson [2016 Barbara Brink Travel Award]
The Barbara Brink Travel Award afforded me the opportunity to visit the Isle of Man this summer, furthering my doctoral research on the Manx artist, Archibald Knox (1864-1933). Until now, Knox's silver and pewter designs for Liberty's of London have largely defined his artistic legacy. My research seeks to understand Knox's larger body of work, including his illuminated manuscripts, grave markers and graphic designs, all of which satisfied the requirements of commercialization, nationalism and modernity of the late nineteenth/early twentieth century. Most of Knox's oeuvre is located on the Isle of Man, along with a large body of primary source archives. My trip to the Isle of Man allowed me to access these materials, which are distributed between institutions and private individuals and only accessible in person. Working with these documents, viewing the site specific works of art, and discussing Knox's life and work with a wide range of experts in their fields has helped further define my research project.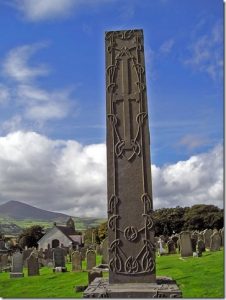 Grave marker for Hall Caine. Kirk Maughold churchyard, Isle of Man. Designed by Archibald Knox, 1931
---
Karlyn Olvido [2016 Richard G. Carrott Memorial Fund Award]
The research opportunities afforded by the Richard G. Carrott Memorial Fund Award were crucial to the foundation of my Master's thesis, in which I analyze how the aesthetics of nineteenth-century photographs of operation scenes shaped the history of medicine, and allows us to understand the role of medical images in nineteenth-century photography. With the support of this award, I visited the library of The College of Physicians of Philadelphia, the home of many noteworthy photographs, journals and rare books that describe milestone events in the history of medicine. At the College, I was able to read the journals of nineteenth-century physicians, which provided essential historical information, as well as perspectives on how photography was viewed in the medical world at the time. Additionally, I studied photographs of operation scenes in teaching amphitheaters that I am using for comparative illustrations to support my writing. Also in Philadelphia, the archives of the Barbara Bates Center for the Study of the History of Nursing at the University of Pennsylvania contain photographs that document series of historical developments in healthcare. Seeing these images firsthand allowed me to examine the backs of the photographs, revealing handwritten notes by photographers that uncovered how these images were used in memorializing events that occurred at the Philadelphia General Hospital. The Carrott Award allowed me to consult these unique resources and incorporate them into art historical research into the history of medical photography, and the history of nineteenth century photography more broadly.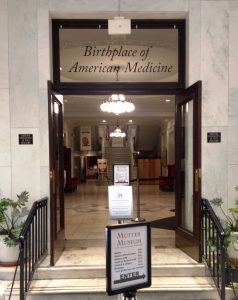 Entrance to The College of Physicians of Philadelphia and the Mütter Museum, Philadelphia, PA
---
Kelly Filreis [2015 Barbara Brink Travel Award]
The Brink Award supported research at the Archives of American Art in Washington, D.C. for my thesis, Picturing Process: Lynda Benglis' Cantilevered Pours. In my thesis, I offer an expanded consideration of the Benglis' six installations of poured polyurethane foam made on-site at various museums in 1971. Flowing and appearing to float freely from the wall, these works have long been admired for the way they seemingly resist classification as painting or sculpture. My thesis takes on this ambivalence, closely examining the critical reception of these works and how they functioned in the spaces in which they were made. However, since Benglis' pours were usually destroyed after each exhibition closed, I needed to view as much documentation as possible. At the Archives, I was able to watch a rare video of Benglis making her installation at Kansas State University, and consult exhibition records of the Finch College Museum of Art and a number of galleries, artists, and critics. These resources shaped my research questions around issues of documentation and site, and provided a broader view of exhibition practices of the 1960s and 1970s.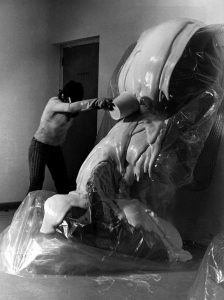 Lynda Benglis pouring Phantom at Kansas State University, 1971
---
Victoria Taormina [2015 Richard G. Carrott Memorial Fund Award]
The Carrott Award allowed me to travel to the Archives of American Art in Washington DC to research my thesis, Bodies in Action: Senga Nengudi's R.S.V.P. Répondez S'il Vous Plaît (1975/2003). Nengudi was a core member of Los Angeles' Black Arts Movement during the 1970s, and R.S.V.P. is a sculpture and collaborative performance series that she created during this time using pantyhose, sand and other malleable materials that are activated by the human body. As is the case for many female artists of color, there is limited documentation of her artistic practice while creating these works. Two collections at the Archives of American Art in Washington DC helped reconstruct this crucial body of work and its context. Audio interviews the art historian Judith Wilson conducted in 1980 for an unpublished article, "Black Women Artists"—including Maren Hassinger, Suzanne Jackson, Samella Lewis, Senga Nengudi, and Bettye Saar—illuminated Nengudi's initial creation of R.S.V.P., and pamphlets, advertisements, correspondence and other materials in the Ankrum Gallery Records documented the distinctive network of black artists and gallerists of the time. The opportunity to conduct original research was crucial in allowing me to write about an artist whose lengthy career is only now gaining critical recognition.
Senga Nengudi setting up for a performance of RSVP in her Los Angeles studio, 1976.
---
Theresa Knopp [2014 Barbara Brink Travel Award]
My thesis, Facing Independence: Portraiture and The Figuring of Nationalism in the Work of Jose Gil de Castro, examines the ways in which long-standing artistic conventions were reimagined to convey new messages of power and authority during the national revolutions of the early 19th century in Latin America. My project took as its point of entry the work of Jose Gil de Castro, a mixed-race portrait artist privileged enough to have painted political and military leaders of the moment. Through these portraits, a language of signs, symbols, text and composition was deployed to establish an ideological basis for the newly founded nations. Thanks to the Brink Award, I was able to travel to Lima, Peru, the birthplace of Gil de Castro and former center of Spanish imperial control in South America. Inspecting Gil de Castro's works with Ricardo Kusunoki, the Curator of Colonial Painting at the Museo de Arte de Lima, researching in its library, and visiting various other sites of historical and national memory around the city, allowed me to articulate the complex interplays between time, place, image, and the formation of a national narrative.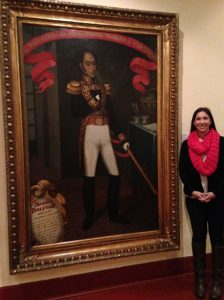 Posing next to José Gil de Castro, Simón Bolívar, 1830. Museo Nacional de Arqueología, Antropología e Historia del Perú. Lima, Peru
---
Sandra Schmitz [2014 Richard G. Carrott Memorial Travel Award]
The Carrott Award allowed me to conduct archival research in New York City for my thesis, Saving Carnegie Hall: A Case Study of Historic Preservation in Postwar New York City. My thesis explored how and why Carnegie Hall's seemingly mediocre architecture was protected in 1960 when other far more architecturally distinguished buildings, such as New York's famed Pennsylvania Station, were demolished only a few years later. Visiting New York City allowed me to see the building firsthand and access a number of historical resources, the most valuable of which was Carnegie Hall's own archive. The institution has systematically acquired documents related to the building and its performances, and their archive possessed a wealth of information including newspaper clippings, correspondence, legal documentation, and photographs spanning Carnegie Hall's entire five-year preservation effort. I was also able to consult files in the Performing Arts Library at the New York Public Library, which held from clippings and fundraising letters collected by musicians and patrons of Carnegie Hall and documents related to New York City's first legislation attempting to regulate architectural aesthetics. These materials provided a crucial historical framework to understand Carnegie Hall in the cultural and architectural context of postwar New York City.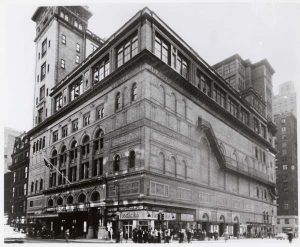 Carnegie Hall, New York, NY, 1960 (from the Carnegie Hall Archives).
---
Edgar B. Ramirez [2013 Barbara Brink Travel Award]
The Barbara Brink Travel Award supported research in England on my MA thesis, The Canterbury Roll- Reconsidering the Medieval Viewer's Encounter with the Twelve Typological Windows at Canterbury Cathedral. With the encouragement of Dr. Conrad Rudolph, I began researching the mysterious emergence of a related set of manuscripts from the 13th, 14th, and 15th centuries. Many scholars had written them off as being nothing more than replacement copies of the original Latin verse inscriptions from the 12th century Typological Windows at Canterbury Cathedral. Yet the design of these documents was unique—in comparison to other manuscripts from the period—and distinct from each other. I was convinced that these differences were not accidental, but conveyed distinctive responses to the artistic culture of typological windows. In particular, I believed that the Canterbury Roll was used as a guide to provide the public with a visual and performative reading of the windows' imagery. Through the collaborative efforts with the archivists at the Canterbury Cathedral Archives and the Corpus Christi College Libraries at Oxford and Cambridge, I was able to find 'visual aids' and markings in the documents to confirm my suspicions—examining the documents in person was critical to the formation of my thesis.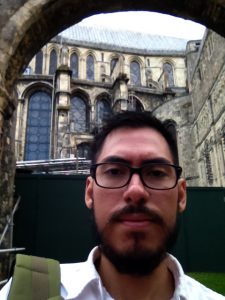 Edgar Ramirez in front of the Becket Miracle Windows, Northeast exterior of Trinity Chapel, Canterbury Cathedral.
---
Leslie Paprocki [2013 Richard G. Carrott Memorial Fund Award]
The Carrott Award supported research travel for my thesis, Rush and Wait: Airports, Seriality, and Undecideability in the Work of Garry Winogrand. Two trips to the Center for Creative Photography at the University of Arizona in Tucson allowed me to work closely with Winogrand's vast archive of contact sheets. These objects form the basis of my thesis, which explores the importance of Winogrand's photographs of airports in the 1960s and 1970s. While at the CCP archives, I was able to truly appreciate the volume of images that Winogrand produced and begin to understand how the airport photographs functioned as a component of his larger body of work. The Carrott Award also allowed me to travel to the San Francisco Museum of Modern Art to see the Garry Winogrand retrospective and gain access to the current scholarship on Winogrand's work.