Art History Graduate Orientation & Welcome Reception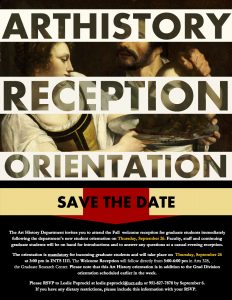 The Art History Department invites you to attend the Fall welcome reception for graduate students immediately following the department's new student orientation on Thursday, September 26. Faculty, staff and continuing graduate students will be on hand for introductions and to answer any questions at a casual evening reception.
Art History Graduate Orientation*
3:00 pm in INTS 1111
Welcome Reception
5:00-6:00 pm in Arts 328
Please RSVP to Leslie Paprocki at leslie.paprocki@ucr.edu or 951-827-7878 by September 6. If you have any dietary restrictions, please include this information with your RSVP.
*Please note that this Art History orientation is mandatory for incoming graduate students, and is in addition to the Grad Division orientation scheduled earlier in the week.
---
Exile: The Land of Non-Belonging, Curated by Camilla Querin, Curatorial Fellow at the California Museum of Photography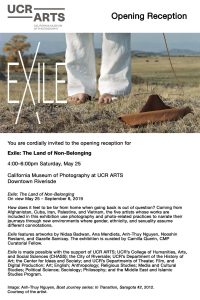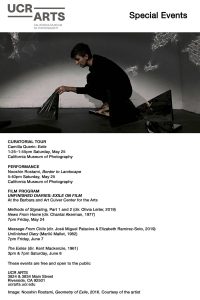 Exile
The Land of Non-Belonging
California Museum of Photography
May 25 – September 8, 2019
Reception: Saturday, May 25, 2019, 4pm – 6pm
Curatorial Tour: Saturday, May 25, 2019, 1:25pm – 1:55pm
Performance: Saturday, May 25, 2019, 5:40pm
Camilla Querin, curator of the exhibition Exile: The Land of Non-Belonging, will offer a walk-through of the exhibition before it opens to the public.
How does it feel to be far from home when going back is out of question? Exile: The Land of Non-Belonging explores the experience of exile and the desire for identity and belonging at a moment when thousands of people are being torn away from their homelands. Coming from Afghanistan, Cuba, Iran, Palestine, and Vietnam, the five artists whose works are included in this exhibition all left their native countries because of forced expatriation or voluntary emigration. They use photography and photo-related practices to narrate their journeys through new environments where gender, ethnicity, and sexuality assume different connotations.
The works engage with different aspects of exiled experience, which can have both positive and negative consequences. The fragility of objects and the ephemerality of gestures contrast with the permanence of memory and the power of self-affirmation. Exile features artworks by Nidaa Badwan, Ana Mendieta, Anh-Thuy Nguyen, Nooshin Rostami, and Gazelle Samizay, and is accompanied by a curatorial tour, artist performance, and related film program.
Exile is curated by Camilla Querin, Curatorial Fellow at the California Museum of Photography. Offered to an exceptional PhD student in the History of Art at UCR, the CMP Curatorial Fellowship enables emerging scholars to work closely with curatorial staff and faculty advisors to conceive museum projects based on their own research interests. In this way, CMP Fellows contribute new scholarship to their field through original exhibitions. The Curatorial Fellowship program is a partnership between UCR ARTS and the History of Art Department at UCR. Exile is the inaugural CMP Fellowship exhibition.
The exhibition is made possible with the support of UCR's College of Humanities, Arts, and Social Sciences (CHASS); the City of Riverside; UCR's Department of the History of Art; the Center for Ideas and Society; and UCR's Departments of Theater, Film, and Digital Production; Art; English; Anthropology; Religious Studies; Media and Cultural Studies; Political Science; Sociology; Philosophy; and the Middle East and Islamic Studies Program.
---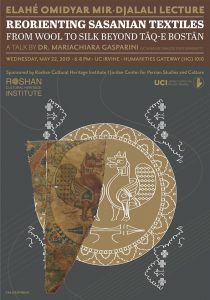 Visiting Assistant Professor Dr. Mariachiara Gasparini Lecture at UCI
Elahe Omidyar Mir-Djalali Lecture
"Reorienting Sasanian Textiles: From Wool to Silk Beyond Taq-e Bostan"
A Talk by Dr. Mariachiara Gasparini (UC Riverside/San Jose State University)
Wednesday, May 22, 2019, 6-8 pm
UC Irvine's Humanities Gateway (HG) 1010
Event Info: https://www.humanities.uci.edu/persianstudiesminor/calendar/events.php?recid=7846&dept_code_val=996-2&css_path=persianstudiesminor&file_name=events
---
Work In Progress Series: Professor of Art History, Jason Weems, Ph.D.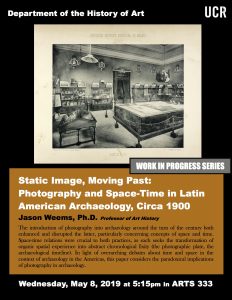 Static Image, Moving Past: Photography and Space-Time in Latin American Archaeology, Circa 1900
Jason Weems, Ph.D. Professor of Art History
Wednesday, May 8, 2019 at 5:15pm in ARTS 333, Free
The introduction of photography into archaeology around the turn of the century both enhanced and disrupted the latter, particularly concerning concepts of space and time. Space-time relations were crucial to both practices, as each seeks the transformation of organic spatial experience into abstract chronological fixity (the photographic plate, the archaeological timeline). In light of overarching debates about time and space in the context of archaeology in the Americas, this paper considers the paradoxical implications of photography in archaeology.
---
ReVision–8th Annual UCR AHGSA Conference
Saturday, May 25, 9:00am – 5:00pm, at UCR ARTSblock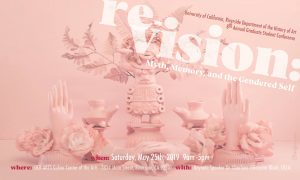 Re-Vision: Myth, Memory, and the Gendered Self
The Art History Graduate Student Association (AHGSA) will host its eighth annual academic conference Saturday, May 25th, 2019 at UCR ARTS Barbara and Art Culver Center of the Arts in Riverside. The conference is open to all graduate students, as well as the public; there is no registration fee. This event is entirely student-generated and organized by UCR's Department of the History of Art graduate students. This is an all-day event, and the goal of this year's conference is to promote an interdisciplinary dialogue through visual and material culture by questioning imposed gendered hierarchies and identities, in order to facilitate inclusive understandings of gendered roles through history. This year's theme concerns re-vision — revising, re-conceptualizing, and seeing differently — as the act of "looking back" to forge new critical directions and critique androcentric world views and traditions.
Keynote Speaker: Dr. Charlene Villaseñor Black, UCLA Department of Art History
Speakers and conference goers will also have the opportunity to view two opening exhibitions at the museum that evening: the Senior Art Show, and the art exhibition entitled Exile: The Land of Non-Belonging — curated by graduate student and Curatorial Fellow, Camilla Querin — at the California Museum of Photography, May 25th – September 8, 2019.
---
Brink Carrott Lecture Series

Thursday, April 18, 2019
5:15-6:45pm, ARTS 333
Featured Speakers:
Camilla Querin, 2018 Richard G. Carrott Travel Award
Where are the Blacks? On the Importance of Afro-Brazilian Culture and Its Marginalization in Mainstream Art
Angela Lessing, 2018 Barbara B. Brink Travel Award
Responsibilities of the Imagination: Ruminations and Relationships in Graciela Iturbide's Juchitán de las Mujeres
Shannon Dailey, 2018 Richard G. Carrott Travel Award
Framing Guinevere: Scottish Nationalism, Feminism, and Figuration in Jessie M. King's Illustrations of The Defence of Guenevere and other Poems
Timothy Lithgow, 2017 Richard G. Carrott Travel Award
George Dureau: A Louisiana Artist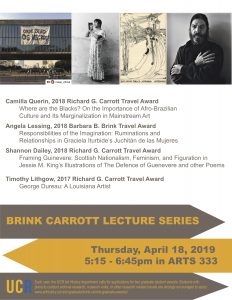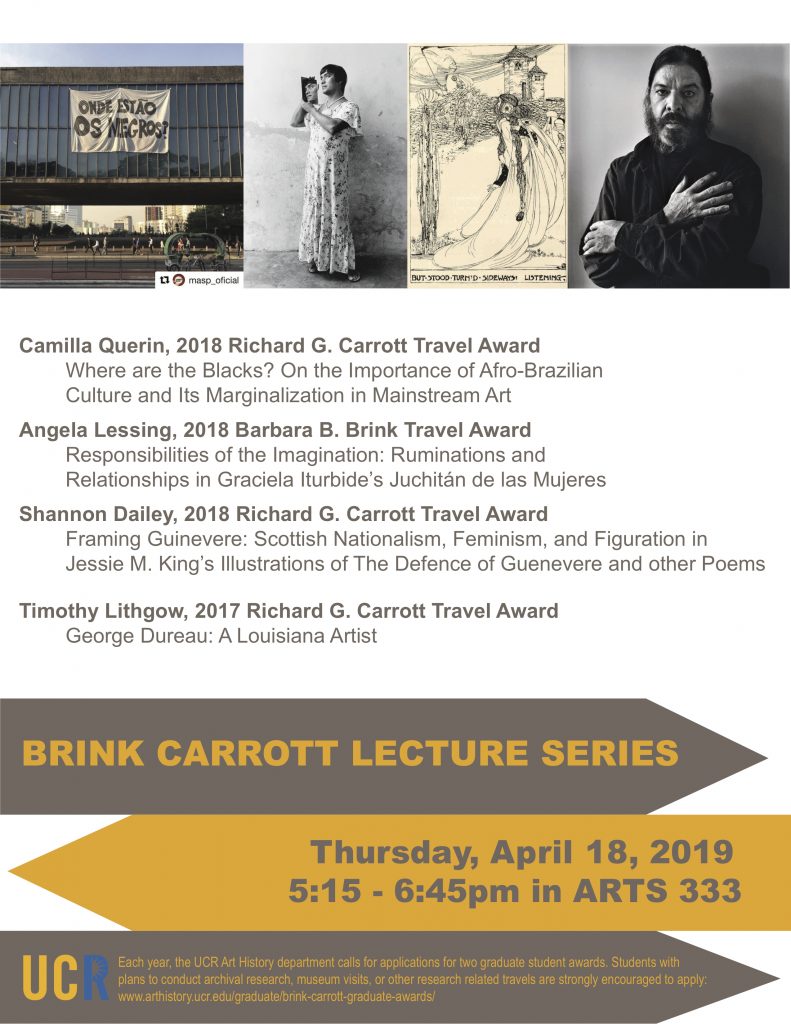 Each year, the UCR Art History department calls for applications for two graduate student awards. Students with plans to conduct archival research, museum visits, or other research related travels are strongly encouraged to apply: www.arthistory.ucr.edu/graduate/brink-carrott-graduate-awards/
---
The Art History Association's Graduate School Talk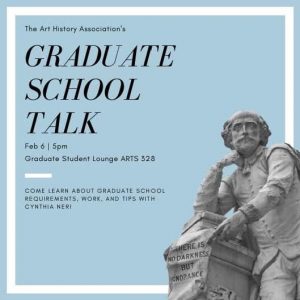 The Art History Association's
Graduate School Talk
February 6 at 5pm
Graduate Student Lounge ARTS 328
Come learn about graduate school requirements, work, and tips with Cynthia Neri.
---
Camilla Querin at the Getty Graduate Symposium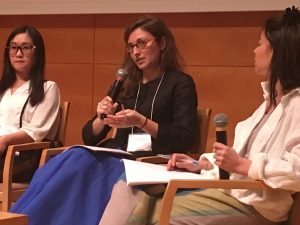 Art History Doctoral Candidate, Camilla Querin, presented at the Getty Graduate Symposium on January 26, 2019. The Getty Graduate Symposium comprises art history graduate students from California research universities: Stanford, UCI, UCLA, UCR, UCSD, UCSB, UCSC and USC. The students have been elected by faculty at their respective departments to represent their institutions. Each student gives a 20 minute talk followed by Q&A. Camilla's talk was "Dialectics of Maladragem: When Arts Transform the Outcast into a Hero."
---
---
The Getty Research Institute Presents: Getty Graduate Symposium
January 26 @ 9:00 am

–

6:00 pm
Getty Graduate Symposium
GETTY CENTER
Saturday, January 26, 2019, from 9 am – 6 pm
Museum Lecture Hall
Free | Advance ticket required: https://www.getty.edu/visit/cal/events/ev_2445.html
The Getty Research Institute hosts the first annual Getty Graduate Symposium, showcasing the work of emerging scholars from art history graduate programs across California. Organized into three sessions, the symposium will include nine individual presentations, panel discussions moderated by faculty mentors, and question-and-answer sessions with the audience.
Participating universities include Stanford University; University of California, Berkeley; University of California, Irvine; University of California, Los Angeles; University of California, Riverside; University of California, San Diego; University of California, Santa Barbara; University of California, Santa Cruz; and the University of Southern California.
Participants
Dan Abbe, University of California, Los Angeles
Laura diZerega, University of California, Santa Barbara
Sharrissa Iqbal, University of California, Irvine
Yiqing Li, University of California, San Diego
LuLing Osofsky, University of California, Santa Cruz
Camilla Querin, University of California, Riverside
Ambra Spinelli, University of Southern California
Patricia J. Yu, University of California Berkeley
Yechen Zhao, Stanford University
---
Malcolm Baker and Jeanette Kohl Speak at Copenhagen Conference
Stone Face: The psychology of the face, the phenomenology of the bust
The seminar explores the portrait from a phenomenological and psychological approach, looking at how it affects the viewer and what kinds of reactions it prompts. We will be discussing the significance of the bust format, primary sources describing encounters with portraits and busts as well as the significance of the face and the psychology of face perception. The seminar is a preparatory work for understanding the Neoclassical artist Bertel Thorvaldsen as a portrait sculptor within a broader context of sculpture theory and art history.
Helen Ackers (University of Warwick), Josefine Baark (University of Warwick), Malcolm Baker (University of California Riverside), Whitney Davis (University of California Berkeley), Joris van Gastel (University of Zurich), Andreas Grüner (Friedrich-Alexander-Universität Erlangen-Nürnberg), Jeanette Kohl (University of California Riverside), Tomas Macsotay (Universitat Pompeu Fabra), Lejla Mrgan (Univeristy of Copenhagen), Melissa Percival (University of Exeter), Rubina Raja (Aarhus University), Rolf Schneider (Ludwig-Maximilians-Universität München), Alexander Todorov (Princeton University), Anna Schram Vejlby (The Hirschsprung Collection), Michael Yonan (University of Missouri)
The seminar is funded by the Velux Foundation's Museums Programme and is the second in a series of seminars under the cross-disciplinary research and dissemination project Powerful Presences. The sculptural portrait between absence and presence, group and individual.
---
Jeanette Kohl Receives Princeton Institute for Advanced Study Fellowship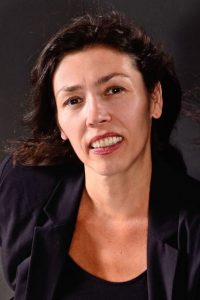 Jeanette Kohl, an associate professor and former chair of UC Riverside's Department of the History of Art, has received a one-year fellowship at the prestigious Princeton Institute for Advanced Study based in New Jersey. Read more from Inside UCR: https://ucrtoday.ucr.edu/54602
---

UCR Presenters at College Art Association 2018 Annual Conference
Download the shortlist to see who's presenting.
Advance Registration ends February 7, 2018
---
Nina Macaraig will be teaching as a Visiting Assistant Professor Winter 2018
Nina Macaraig received her doctorate in Islamic Art History from the University of Minnesota in 2005. From 2005 to 2017, she worked at Koç University, Istanbul, first as Post-Doctoral Fellow at the Research Center for Anatolian Civilizations, then as Instructor in the Department of History, and finally as faculty member in the Department of Archaeology and History of Art, where she became Associate Professor in 2014. In 2010, she was a Post-Doctoral Fellow with the Kunsthistorische Institut in Florence, Italy. Fall 2015 she spent as Visiting Associate Professor in the Department of Art and Art History at Stanford University, and in Spring 2016, she held a Getty Fellowship for her project on "Heavenly Fragrance from Earthly Censers: Conveying the Immaterial Through the Sensory Experience of Material Objects."
---
Jeanette Kohl at Northwestern University
Associate Professor Jeanette Kohl is presenting at two upcoming events at Northwestern University:
January 24, 2018, 5:00 PM – 7:00 PM Warnock Lecture Series: Jeanette Kohl

January 25, 2018, 12:00 PM – 1:30 PM Warnock Undergraduate Seminar: Jeanette Kohl

---
Johannes Endres Interview
Deutschlandfunk, German public broadcasting radio station, interviewed Associate Professor Johannes Endres about his book, Fetischismus: Grundlagentexte vom 18. Jahrhundert bis in die Gegenwart (Fetishism: Source Texts from the 18th century to the present).
Click here to read and listen to the interview: http://www.deutschlandfunk.de/johannes-endres-fetischismus-ein-kostbarer-schatz-in-einer.700.de.html?dram:article_id=407504
---
Brazil and Argentina's History Found in the Layers of Paint
Assistant Professor of Art History Aleca Le Blanc is the co-curator of an art exhibition at the J. Paul Getty Museum. Read more in UCR Today: https://ucrtoday.ucr.edu/50533
---
Gluck Fellowships for Graduate Art History Students
We are pleased to announce that the UCR Department of the History of Art will once again participate in the Gluck Fellowship Program in 2017-18. The Gluck Fellows Program of the Arts is an arts outreach program here at UCR.
The Gluck Fellows Program of the Arts provides fellowships to UC Riverside undergraduate and graduate students to conduct arts-related presentations, performances, and workshops in Riverside County schools, residential facilities for elderly care and community centers. Participating departments include Art, Creative Writing, Dance, History of Art, Music, and Theatre, as well as the UCR/ARTSblock. Graduate students in the History of Art have participated by making presentations to a variety of community groups in Riverside.
For more background, go to http://gluckprogram.ucr.edu/.
Next year, we anticipate we will have six Gluck Classroom Fellows and one GluckGlobal Fellow working with the Visual Resources Collection (VRC), contingent on continued funding from the Gluck Foundation.
The Gluck Classroom Fellowships are an excellent opportunity to develop your teaching skills while earning financial aid. The VRC GluckGlobal Fellow will work exclusively on a collaboration between UC Riverside and the Society of Architectural Historians (SAH) through the Color Film Emergency Project (CFEP) and may be of particular value to those students interested in the history of photography, history of architecture, collection management, registrarial experience, and/or visual resource management.
Application deadline is Monday, May 15, 2017.
---
The Department of the History of Art Has Unanimously Approved the Following Statement in Response to the Presidential Election of 2016
RESPONSE TO PRESIDENTIAL ELECTION, 2016
The Department of the History of Art is committed to the intellectual inquiry and rigorous analysis of artistic practices from across the globe and across time. It is our belief that a socially and politically responsible art history produces encounters with and the study of diverse cultures, which inspires both tolerance and ethical conduct, reminding us of our shared humanity. The repeated instances of xenophobic, racist, and misogynist language that characterized the recent presidential election is antithetical to the principles of this department which stands for the inclusion of a plurality of views. This rhetoric and the actions it engenders threaten the core values of our department, our university, and the UC system as a whole. Echoing the words of UC President Janet Napolitano, we "remain absolutely committed to supporting all members of our community and adhering to UC's Principles Against Intolerance." We are concerned that some now face heightened risk of harassment and as a department we condemn discrimination, marginalization, and violence against any member of our community. We affirm our commitment to the diverse student population of UCR and offer our support and protection to students who feel vulnerable, due to their immigration status, gender or nationality. The current political climate has only sharpened our convictions about the imperatives of studying histories and diverse visual cultures. Critical thinking, factual argumentation, and lucid debate are even more vital in a climate of derisive language, images, symbols, and behaviors. One cannot underestimate the value of understanding history in shaping our collective future.
---

Jason Weems has won the Fred B. Kniffen Book Award for Best Authored Publication, and the John Gjerde Prize for the Best Book on Midwestern History awards for his book, "Barnstorming the Prairies: How Aerial Vision Shaped the Midwest."
https://ucrtoday.ucr.edu/40719

Writing a book is an all-encompassing commitment," Weems said. "As scholars, we do it because of a belief that we can bring about a better understanding of the world. When trusted colleagues suggest that you might be succeeding in that effort, it is very special."
The book offers a panoramic view of the transformative nature and power of aerial vision that remade the Midwest in the wake of the airplane. It addresses how fight led to a new view of the Midwest, and how aerial vision helped to recast the Midwestern landscape amid the technological change and social uncertainty of the early 20th century.
The Fred B. Kniffen Book Award for Best Authored Publication is awarded by the International Society for Landscape, Place and Material Culture Studies (ISLPMC). The ISLPMC encourages and recognizes books by authors regarding North American material culture, which is the physical evidence of culture, such as objects and architecture. Named for the renowned geographer, Fred Kniffen, the prize in his honor is granted annually for the best book in the field published within two years of the award.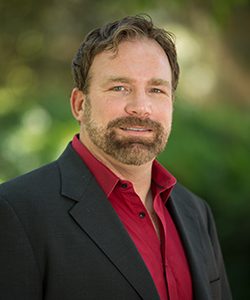 The Jon Gjerde Prize for the Best Book on Midwestern History is awarded by the Midwestern History Association to the best book authored on a Midwestern history topic during a calendar year. In the award announcement, it was noted that "Weems directs our attention to bird's-eye-view maps, historic atlases, the paintings of Grant Wood, Frank Lloyd Wright plans, Farm Service Administration photos, as well as aerial photographs, to explore both the physical and the imaginative landscape of the Midwest."
---

Conrad Rudolph Awarded the CHASS Distinguished Research Lecturer Award
http://chass.ucr.edu
The College of Art, Humanities, and Social Sciences presents the 2015-2016 CHASS Distinguished Research Lecturer Award to Professor of Art History, Conrad Rudolph.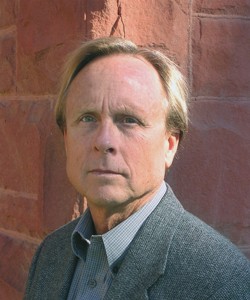 Dr. Rudolph is an art historian whose research focuses on the art of Medieval Europe, with special attention to the role of visual expression in the articulation of intellectual and theological concepts, and their dissemination into the broader culture. As a medievalist, Rudolph's work is lauded not only for its historical rigor, but also for its conceptual daring and theoretical sophistication. Rudolph is known to be a scholar who fearlessly asks the big questions. He also possesses the rare gift of being able to make complex and historically distant imagery clear and compelling to a twenty-first century audiences.
His record of publication and scholarly activity (six books; countless articles and chapters, fellowships, and academic presentations) demonstrates a remarkably high and consistent level of production. Especially noteworthy, however, is his string of recent achievements: publication of an award winning book, his 626-page The Mystic Ark: Hugh of Saint Victor, Art, and Thought in the Twelfth Century, election as a fellow of the elite Medieval Academy of American, and perhaps most strikingly, his National Endowment for the Humanities-funded FACES (Faces, Art, and Computerized Evaluation Systems) project. This last project which mixes traditional humanistic scholarship with cutting edge digital facial recognition software to provide a new tool for identifying unknown sitters in artistic portraits. He is currently at work on a second and equally inventive project that uses spatial modeling technology to investigate the famous dome of the Florence Cathedral. Here, as in FACES, Rudolph enacts a rare and high-level integration of art history and the digital humanities.
Rudolph's scholarship has had a profound effect on the study of medieval art and history at the highest levels. Yet, he has also committed himself to bringing this rigor and inventiveness to the classroom. Fueled by his passion and erudition as scholar, Rudolph is a demanding and inspiring teacher who has guided numerous UCR students into Medieval art.
---

Jason Weems Awarded Fulbright Fellowship
UCR Anthropologist and Art Historian Awarded Fulbright Fellowships
Yolanda Moses will study new model of inclusiveness in Australia; Jason Weems will explore the intertwining of art and archaeology in the Americas
UCR Today
by Bettye Miller on June 2, 2016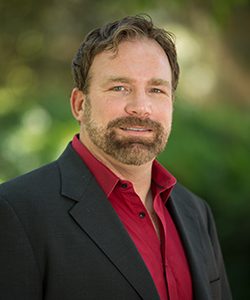 "Jason Weems, associate professor of art history, will pursue research at the Instituto Franklin of the Universidad de Alcala in Madrid, Spain, to develop an intellectual and historical framework for understanding American art through the lens of the Americas.
Weems, who joined the UC Riverside faculty in 2008, will spend the winter and spring quarters of 2016-17 conducting research and teaching at The University of Alcala's Franklin Institute in a project that he hopes will foster a more globalized approach to American art history both at home and abroad. Research conducted in colonial archives and at various art museums also will support a book-length project, "Inventing the Americas: Art, Archaeology and the Modern Making of a Pre-Columbian Past."
"While American art has traditionally been understood as the study of 'art of the United States,' recently efforts have begun to understand the deep entanglement of national art within a more expansive network of indigenous, cross-cultural and international exchange," he explained. "One result of this shift has been the expansion of American art to encompass the many places and peoples, across both the Western hemisphere and the globe, which played formative roles in the synthesis of American artistic and representational practices. This more diversified appreciation is often referred to as the 'arts of the Americas.'"
Refocusing American art scholarship away from narratives of European colonial domination toward a more balanced approach to the Americas offers new and better opportunities to understand the rich cultural networks that shape the history and future of the hemisphere and the place of artistic expression within it, Weems said."
---
A Case of Mistaken Identity Solved
UC Riverside art history professor corrects Getty Museum on misidentified Renaissance sculpture
She felt like a detective. Digging through notes and photos, asking for curatorial files, and doing research on child martyrs. She did all of this because as she gazed at the marble bust of a little boy at the J. Paul Getty Museum in Los Angeles something just didn't fit for Jeanette Kohl, chair of the art history department at the University of California, Riverside.
Turns out, Kohl's instincts were correct, and the 15th century bust titled "Saint Cyricus" does not depict the child martyr, but rather a different child, Simon of Trent, who disappeared on Easter of 1475 and was soon found dead. Given Kohl's thorough research, the Getty plans to change the label and identification of the important sculpture by the end of 2016.
---
Conrad Rudolph, professor of medieval art history at UCR, was named a Fellow of The Medieval Academy of America.
In medieval studies (history, literature, philosophy, religious studies, art history, etc.) this is the highest honor that can be bestowed upon a medievalist in the United States. Founded in 1925, The Medieval Academy of America is the largest organization in the U.S. promoting excellence in the field of medieval studies.
Rudolph has recently completed a book-length study (and digital reconstruction, http://mysticark.ucr.edu) of Hugh of Saint Victor's Mystic Ark (c. 1125-1130), a forty-two page description of the most complex individual work of figural art of the Middle Ages, a painting also known as The Mystic Ark. The purpose of the painting was to serve as the basis of a series of brilliant lectures undertaken by Hugh at Saint Victor, a Parisian abbey of Augustinian canons. The purpose of the text was to enable others outside of Saint Victor–teachers, students, scholars, monks, canons–to undertake similar weeks-long discussions themselves by providing the information necessary to produce the image, something that was repeated again and again over the centuries. Depicting all time, all space, all matter, all human history, and all spiritual striving, this highly polemical image deals with a series of cultural issues crucial in the education of society's elite during one of the great periods of intellectual change in Western history.
---

Congratulations to JP Park on his article "The Anxiety of Influence: (Mis)reading Chinese Art in Late Choson Korea (1700-1850)" in the Art Bulletin.
Woodblock printed painting albums and manuals from early modern China sparked changes in the way some forms of art were produced in late Chosŏn Korea (1700–1800). Although such art books were firmly rooted in the middle-class public in China, most pictorial and literary evidence tells us that these same books were used exclusively by highly positioned artists and critics in early modern Korea. This disparity of readership points to inequalities in cultural exchange and communication between early modern China and Korea, in which misinformation gave rise to a new source of artistic inspiration.
---
Conrad Rudolph's recent book, The Mystic Ark: Hugh of Saint Victor, Art, and Thought in the Twelfth Century (Cambridge University Press, Cambridge and New York, 2014), has won the 2014-2015 Emory Elliott Book Award from the UCR Center for Ideas and Society.
In medieval written sources, works of art are not often referred to, let alone described in any detail. When they are mentioned, it is seldom with more than a word or phrase, at the most a sentence. Almost completely ignored by art historians because of the immense difficulty of its text, Hugh of Saint Victor's Mystic Ark (c.1125-1130) is a forty-two page description of the most complex individual work of figural art of the Middle Ages, a painting also known as The Mystic Ark. Depicting all time, all space, all matter, all human history, and all spiritual striving, this highly polemical image deals with a series of cultural issues crucial in the education of society's elite during one of the great periods of intellectual change in Western history. Meant to be copied by others, it is among the most unusual sources we have for an understanding of medieval artistic culture.
---
Art History and Medical Education
With the introduction of consistent and effective medical practices in the 1900s patients lived longer, healthier lives. But with the onset of WWI, medical staff encountered a new challenge: patients who survived the trauma of face mutilation but were unable to look at themselves in a mirror. Doctor and academy trained artist Henry Tonks found a solution in using watercolors to paint new representations of his patients. Through his art he was able to create beautiful, touching renditions of their disfigurements, and his patients were able to look at themselves for the first time.
Dr. Jeanette Kohl uses this historic example to show how the humanities can foster human connection. Professor Kohl—Chair of the Art History Department at UCR, and passionate art historian with an interest in the history of the body as well as Renaissance portraiture and sculpture—supports creating more inclusive programs linking the humanities and sciences. Last December she organized "Vesalius and His Worlds: Medical Illustrations during the Renaissances" at The Huntington. She explains how this conference brought together people who were interested in the subject from a collecting point of view, a visual point of view, and an academic point of view. Read More
---
Jeanette Kohl, chair of the Department of the History of Art, gave the commencement speech at UCR's partner university in Germany, Friedrich-Alexander-Universitaet (FAU) Erlangen-Nuremberg.
Kohl was invited by FAU's chair of the art history department, Professor Christina Strunck. The visit was part of an ongoing collaboration between the two universities. The partnership began in 2013, after a graduate student workshop with faculty and students from FAU in Riverside. Kohl and another UCR art history professor, Kris Neville, took a group of seven graduate students on a summer study trip abroad to the German university in 2014. Read more
---
Eva Wattolik will be teaching as a Visiting Professor for the Winter 2015/16
Wattolik is a researcher and lecturer at Friedrich-Alexander University Erlangen-Nüremberg. Her research focuses on artistic and media-based strategies of image generation and its theory in the 19th and 20th centuries, with a special focus on photography, experimental film and video art. She completed her habilitation (postdoctoral studies) in 2014. Her manuscript on "Time and Form: Modes of Reflection in Film and Video Art" was named one of the best habilitation theses by her home university. Her doctoral thesis, completed in 2005, reflected on parody as a term and its application to early comic paintings by Roy Lichtenstein.