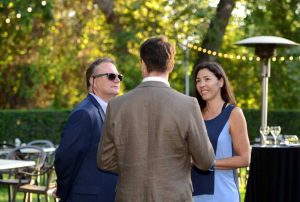 Associate Professor
Ph.D., University of Trier
225 Arts Building
(951) 827-5919
jkohl@ucr.edu

Curriculum Vitae
Academia website
Biography/EducationResearch/TeachingSelected PublicationsBooks
Jeanette Kohl earned her Dr.phil. (PhD) from the University of Trier/Germany and was a Postdoctoral fellow at the Max-Planck-Institute for Art History (Kunsthistorisches Institut) in Florence/Italy from 2001-2004, followed by a position as Assistant Professor at the University of Leipzig (2004-2008) and as Visiting Professor at Friedrich-Schiller-University Jena (2007). From 2006 to 2009, she chaired the international academic network "The Power of Faces. The Bust, the Head, and the Body in the Middle Ages and the Renaissance." She is at UCR since 2008 and was chair of the department from 2015-2018. During the academic year 2018/19, she was the Agnes Gund and Daniel Shapiro Member at the Institute for Advanced Study in Princeton and a Director's Guest Fellow at the Kunsthistorisches Institute in Florence (August/September 2019). In Princeton and Florence, she worked on her new book "The Life of Busts. Sculpted Portraits in Fifteenth-Century Italy," the first book-length study of bust portraits and their functions, materials, and meanings in Renaissance Italy. She is co-chair of a new Medical and Health Humanities program at UCR and will be Acting Director of the Center for Ideas and Society (CIS) in the winter 2020.
Areas of Specialization
Italian Renaissance Art with an emphasis on Sculpture and Architecture
Object and Material Culture
Portraiture and the History of the Human Face
Theories and Concepts of Mimesis and Representation
Early Modern Medicine and History of the Body in Art
Afterlife of the Renaissance in Contemporary Art
Professor Kohl teaches Honors Freshmen Seminars on a regular basis and has taught several 'CHASS F1RST' classes for freshmen. In both class types, targeted at students from the Humanities and Social Sciences, she concentrates on the history of the body and concepts of identity and individuality in Art History, from Ancient to Contemporary Art and Culture. She is currently involved in a novel Medical Humanities program with new course offerings at UCR. She also teaches AHS 017B, a survey in Art History from Early Medieval to Late Renaissance and a variety of courses on Renaissance Art History: an upper-division class series on the "Renaissance in Rome: Art, Papacy, Power", "Renaissance in Venice: West meets East" and "Visual Culture in Renaissance Florence," and Junior-Senior Seminars on topics such as "Art and Love in the Renaissance," "Masterpieces of Interpretation / Interpretation of Masterpieces," and "The Artist as Artwork: Concepts of Self." Among her topics for Graduate Seminars are "What is the Renaissance? New Readings in Art History and Theory," "Renaissance Portraiture" and "Thinking with Images: Warburg to Didi-Huberman." Over the past four years, she has taught AHS 280, the department's capstone graduate course on "Research, Critical Analysis, and Thesis Writing."
Professor Kohl's research focuses on image concepts and strategies of representation in the Italian Renaissance with a particular interest in portraiture, object and material culture, and – more recently – the history of medicine. She is involved in several interdisciplinary projects on the role of the face in western cultures. The author of a book on famous mercenary Bartolomeo Colleoni's burial chapel (Fama und Virtus, Berlin: Akademie Verlag, 2004), she is also co-editor of five other books, most recently Similitudo. Concepts of Resemblance, 2012; EN FACE. Seven Essays on the Human Face, 2012; Renaissance Love. Eros, Passion, and Friendship in Italian Art Around 1500 (2015). Her new book, Facing Objects. Sculpted Portraits in the Renaissance, which is in preparation, will re-evaluate the materials, forms, and meanings of bust portraits from the 14th to the 16th century. She was awarded a Getty Scholarship in the fall of 2014, a Fellowship at 'MORPHOMATA' Center for Advanced Studies at the University of Cologne/Germany in spring/summer 2015, and a Getty Summer Fellowship to work on her book. As of July 2015, she is Chair of the department.
Authored
Facing Objects. Sculpted Portraits in the Renaissance (in preparation for 2015)
Fama und Virtus. Bartolomeo Colleonis Grabkapelle. Akademie-Verlag, Berlin 2004 (377 pages)
Reviewed in:
Sehepunkte 4, 2004, Nr. 9 (by Joachim Strupp)
Süddeutsche Zeitung, Feb. 22, 2005 (by Michael Thimann), http://www.perlentaucher.de/buch/20303.html
Journal für Kunstgeschichte 2/2007, pp. 122-126 (by Antje Fehrmann)
Journal of the Society of Architectural Historians/JSAH, No. 67/2, 2008, pp. 280-281 (by Charles Morscheck)
Co-edited
Renaissance Love. Eros, Passion, and Friendship in Italian Art Around 1500. Jeanette Kohl, Marianne Koos, and Adrian Randolph (eds.) Deutscher Kunstverlag, Munich/Berlin 2014
Similitudo. Konzepte der Ähnlichkeit in Mittelalter und Früher Neuzeit (Similitudo. Concepts of Likeness in the Middle Ages and the Renaissance). Jeanette Kohl, Martin Gaier, Alberto Saviello (eds.), Fink, Munich 2012
Reviewed in:
Renaissance Quarterly 66/1, 2013, pp. 195-197 (by Jacqueline N. Coutré)
En Face. Seven Essays on the Human Face. Jeanette Kohl, Dominic Olariu (eds.), kritische berichte, 1/2012, Marburg 2012
Kopf / Bild. Die Büste in Mittelalter und Früher Neuzeit (Head / Image. Bust Portraits in the Middle Ages and the Renaissance). Jeanette Kohl, Rebecca Müller (eds.), in collaboration with Gerhard Wolf, Kunsthistorisches Institut, Max-Planck-Institute in Florence. Deutscher Kunstverlag, Munich/Berlin 2007
Re-Visionen. Zur Aktualität von Kunstgeschichte (Re-Visions. Art History Today). Richard & Barbara Hüttel, Jeanette Kohl (eds). Akademie-Verlag, Berlin 2002
Reviewed in:
Süddeutsche Zeitung, June 30, 2002 (by Michael Thimann)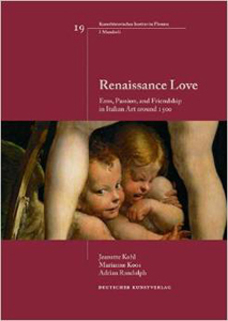 Renaissance Love: Eros, Passion, and Friendship in Italian Art Around 1500
2014, Deutscher Kunstverlag
Jeanette Kohl, co-edited
Love is not blind. On the contrary, love is highly visual and the visual arts above all others have the capacity to enflame its passion – an idea that goes back to Leonardo da Vinci. This volume, 'Renaissance Love: Eros, Passion, and Friendship in Italian art around 1500', presents the view of internationally renowned specialists in a collection of studies devoted to the intermeshing of art, love, and attraction. The essays not only provide valuable insights into contemporary research on the subject, but also afford new and surprising perspectives on Italian Renaissance art; in their scholarly approach to the topic they are a long-overdue contribution to the interdisciplinary discourse on love in Italian culture around 1500.
Featured authors: Hans Aurenhammer, Stephen J. Campbell, Elisa de Halleux, Giancarlo Fiorenza, Jeanette Kohl, Marianne Koos, Alessandro Nova, Christopher J. Nygren, Jill Pederson, Ulrich Pfisterer and Adrian W.B. Randolph.