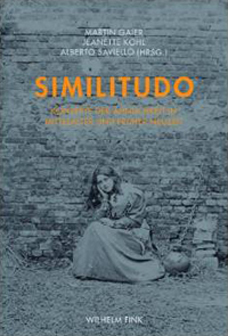 Similitudo: Concepts of Likeness in the Middle Ages and the Renaissance
2012, Fink Wilhelm GmbH
Jeanette Kohl, author
"Similitudo" discusses the role of realism and likeness in different media and time periods, from the 14th to the 17th century, with a particular emphasis on its relevance for the arts, philosophy, and the psychology of perception."
Review in Renaissance Quarterly:
Reviewed work(s): Martin Gaier, Jeanette Kohl, and Alberto Saviello, eds. Similitudo: Konzepte der Ähnlichkeit in Mittelalter und Früher Neuzeit. Munich: Wilhelm Fink, 2012.
"The paradigm of resemblance (similitudo in Latin) offers one mode for the assessment of visual images. Yet as a discrete concept, it is too infrequently the subject of examination, relegated as it is to one aspect of the larger discussions of portraiture, scientific illustration, or art theory. The threats of similitude as a broader topic of art-historical inquiry are clear: in its subjectivity and ephemerality, resemblance is volatile and changeable, that is, contingent. The current volume of essays, one product of the German research project The Power of Faces: The Bust, the Head, and the Body in the Middle Ages and Renaissance (2006–09), marks an important step in the historiography of the concept, for it takes this thorny issue as its central theme. The book ventures beyond the simple comparison of model and image to posit new understandings of likeness informed by the perspectives of philosophers like Charles Sanders Peirce and Hans-Georg Gadamer. This conceptual framework, which motivates many of the contributions, makes Similitudo a welcome addition to the literature on image theory. 
The ten essays that make up this volume address likeness from several vantage points: the face as the locus of recognition (Kohl/Gaier/Saviello), metaphor and analogy as relationships of (dis)similarity (Endres), the observation of the biological original in the process of representation (Olariu and Haug), the performance of faith and the rituals associated with it (Madej-Anderson, Wetter, and Krass), the methods by which the artist asserts the authenticity of his creation (Gaier and Kohl), and, as an appealing appendage to the previous essays, the instrumentality of the legend of the ugly artist (Saviello). The interpretative distance covered by objects as diverse as life-sized Moors' heads carved in the thirteenth century and Giovanni Bellini's sixteenth-century portraits of monks in the guise of saints may be great, but the underlying assessment of resemblance results in some interesting intellectual intersections. The number of references to death masks, for example, is unexpected and seems to signal the individualization of long-deceased holy figures in the minds of artists and patrons during this critical period (Krass and Gaier) on the one hand, and the desire to reclaim the ostensible verism of antiquity (Kohl) on the other. Many of the authors also address the historical agency of these works of art, suggesting that the slipperiness of such terms as portrait and likeness may not be a completely recent phenomenon resulting from the loss of the sitters' identifications or the artists' objectives. While some of the objects discussed may be unknown even to the experienced scholar (a twelfth-century nun's crown, for example), the number of masterpieces illustrated (the sculpted head of Ekkehard II in the Naumburg Dom or the "Leo" folio from Villard de Honnecourt's modelbook in Paris) means that these essays reconfigure our contextualization of certain canonical monuments of art history. This volume distinguishes itself from other publications on theories of representation by its historical focus, its transcendence of the portrait as primary source material, and its textual and visual consideration of likeness. While some of the essays may be too conceptual for conservative art historians, the authors make clear that they seek to unpack cultural codes rather than engage in formal analysis in the tradition of Roger Fry. More legitimately, the reader may puzzle over the selection of a late nineteenth-century photograph as a cover illustration to a book concentrating on twelfth- through sixteenth-century art, while longing for a conclusion and index to more effectively maneuver the extensive sweep of the authors' collective gaze. As a complement to recent studies of portraits and the living image in art, however, this collection of essays theorizes a fundamental art-historical idea in an approachable and stimulating manner. It therefore makes for suitable reading for graduate students with a strong command of German (no English summaries here) who are interested in thinking about the boundaries of similitude, the artist's intention, and the nature of creative invention in the late medieval and Renaissance eras."
Jacquelyn N. Coutré (New York University, Institute of Fine Arts)
© COPYRIGHT 2013 The Renaissance Society of America