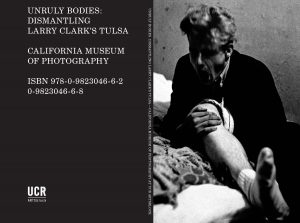 Unruly Bodies: Dismantling Larry Clark's Tulsa
Riverside: California Museum of Photography, 2016
Susan Laxton, editor
Between 1963 and 1971, the photographer Larry Clark shot and filmed his close group of friends, drug addicts in Tulsa, Oklahoma. When the images were published as the photo book Tulsa (1971), the pictures seared the wholesome image of the American heartland with graphic depictions of sex, drugs, and violence. Clark's exposé was regarded alternately as a wretched narrative of the decline of American youth, accomplished at the expense of the bodies it represented, and welcomed as an artistic watershed of participant observer-oriented personal documentary valued for the photographer's privileged access to hidden subcultures. Published in conjunction with the eponymous exhibition at the California Museum of Photography, Unruly Bodies seeks to remix Clark's original story into a critical exhibition that moves beyond sensationalism toward examining the implications of such a photographic project for contemporary life.