Associate Professor
Ph.D., Columbia University
235 Arts Building
(951) 827-1404
susan.laxton@ucr.edu
Curriculum Vitae
Biography/EducationResearch/TeachingSelected PublicationsBooks
Susan Laxton's interests range across the alternative art practices introduced by the European avant-gardes of the 20th century, among them photography, collage, photomontage, and automatic or chance-based processes – all practices that emphatically challenged the conventions of traditional mediums like sculpture and painting. Photography, as a medium simultaneously engaged with technology, mass media, documentation and art, has been central to her understanding of modern and contemporary art as both a model for and challenge to the visual arts from the medium's inception to its digital present. Professor Laxton has received fellowships from the Institute for Advanced Studies, Princeton University, and the Hellman Foundation. Her work has appeared in such publications as October and Critical Inquiry, and in numerous catalogs and edited volumes. Professor Laxton's first book, Surrealism at Play, is forthcoming from Duke University Press in 2017, and she is currently at work on two new manuscripts: Photography Between Mind and Brain, and From Spirit to Unconscious: Arp, Schad and Serner before Dada.
Education
2004 Ph.D., Columbia University, Department of Art History and Archaeology
1994 M.A., Columbia University, Department of Art History and Archaeology
1981 B.S., Drexel University
Research Interests:
Play strategies in modern and contemporary art
Abstract photography
Photography, mind and brain
Avant-garde art in Europe, 1918-1945
Undergraduate courses offered
Photography and the Body
Avant-Garde Photography Between the Wars
19th Century Photography
20th Century Photography
Photography Since 1960
Modern Art 1900-1945
Photography on Display
Dada
Surrealism
Graduate Seminars
Photography Theory
Curatorial Seminar
Curatorial Practicum
Books and Edited Volumes
Surrealism at Play (Durham, NC: Duke University Press, forthcoming, 2017).
Unruly Bodies: Dismantling Larry Clark's Tulsa (Riverside: California Museum of Photography, 2016), editor.
Confessions* of a Male Chauvinist Pig. (ed.) Ex. cat. Riverside: California Museum of Photography, 2013.
Paris as Gameboard: Man Ray's Atgets. Ex. cat. New York: The Wallach Gallery, 2002.
Articles and Book Chapters

"Moholy's Doubt," in Photography and Doubt, Andrés Zervigon and Sabine Kriebel, eds. (New York: Routledge, 2016).
"The Fugitive: citation and flux in William Burroughs' rephotography." Taking Shots: The Photographs of William Burroughs, Patricia Allmer and John Sears, eds. London: Prestel, 2014.
"As Photography: Mechanicity, Contingency, and Other-Determination in Gerhard Richter's Overpainted Snapshots," Critical Inquiry. Vol. 38, No. 4: Summer 2012, p. 776-795.
"White Shadows: Photograms around 1922. Inventing Abstraction, Leah Dickerman, ed. New York: MoMA, 2012. Winner, Daedalus Award for Best Exhibition Catalog, 2012.
"The Surreality Effect." Drawing Surrealism, Leslie Jones, ed. Los Angeles: LACMA, 2012.
"From Judgment to Process: the Modern Ludic Field." From Diversion to Subversion: Games, Play, and Twentieth-Century Art, David Getsy, ed. University Park, PA: Penn State University Press, 2011.
"This is Not a Drawing." The Exquisite Corpse: Collaboration, Creativity, and the World's Most Popular Parlor Game, Tom Denlinger, Kanta Kochhar-Lindgren, and Davis Schneiderman, eds. Lincoln, NE: University of Nebraska Press, 2010.
"Flou: Rayographs and the Dada Automatic," October 127: Winter 2009, p. 25-48.
"The Good Fairy Automatism." Chance Aesthetics, Meredith Malone, ed., St. Louis: The Mildred Lane Kemper Art Museum, 2009. Winner, Midwest Art Society Award for Outstanding Catalog, 2009.
"What Photographs Don't Know." Photography Between Poetics and Politics: The Critical Position of the Photographic Medium in Contemporary Art, Hilde VanGelder and Helen Westgeest, eds. Leuven: University Press Leuven, 2008. Chinese translation, 2012.
"The Guarantor of Chance: Surrealism's Ludic Practices." Papers of Surrealism Vol. 1, No. 1: Winter 2003. http:www.surrealismcentre.ac.uk/publications/papers/

Unruly Bodies: Dismantling Larry Clark's Tulsa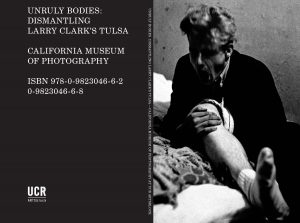 Riverside: California Museum of Photography, 2016
Susan Laxton, editor
Between 1963 and 1971, the photographer Larry Clark shot and filmed his close group of friends, drug addicts in Tulsa, Oklahoma. When the images were published as the photo book Tulsa (1971), the pictures seared the wholesome image of the American heartland with graphic depictions of sex, drugs, and violence. Clark's exposé was regarded alternately as a wretched narrative of the decline of American youth, accomplished at the expense of the bodies it represented, and welcomed as an artistic watershed of participant observer-oriented personal documentary valued for the photographer's privileged access to hidden subcultures. Published in conjunction with the eponymous exhibition at the California Museum of Photography, Unruly Bodies seeks to remix Clark's original story into a critical exhibition that moves beyond sensationalism toward examining the implications of such a photographic project for contemporary life.
Confessions* of a Male Chauvinist Pig
2013, (ed.) Ex. cat. Riverside: California Museum of Photography
Susan Laxton, editor
Confessions* of a Male Chauvinist Pig, a collection of essays written in conjunction with the exhibition of the same name at the California Museum of Photography, reconsiders Garry Winograd's book project Women Are Beautiful (1975). Women Are Beautiful is a set of 85 photographs culled from the hundreds Winogrand shot of women in public places between 1964 and 1973. Initially bearing the controversial subtitle "Observations of a Male Chauvinist Pig," Winogrand's book struggled to find a publisher and then withered in the light of feminist critique once it appeared. Confessions* aims to reorganize the photographs into a critical exhibition that places the project in the context of the turbulent 1960s, at the nexus of gender relations buffeted by the conflicting terms of the sexual revolution and the women's movement, particularly in light of the consumption of women in media images.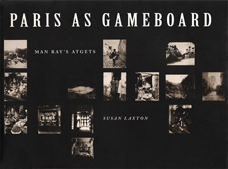 Paris As Gameboard: Man Ray's Atgets
2002, Ex. cat. New York: The Wallach Gallery
Susan Laxton, author
Soon after moving to France, Man Ray began collecting the works of his forebear Eugene Atget, whose pictures surveyed Paris in the late 19th and early 20th century. Here, for the first time, these images of the urban landscape are considered through a Surrealist frame collectively, as a peripatetic surrealist text comparable to André Breton's Nadja and Louis Aragon's Paris Peasant.