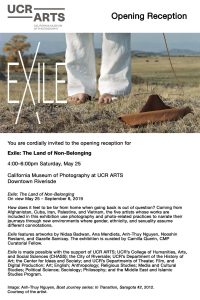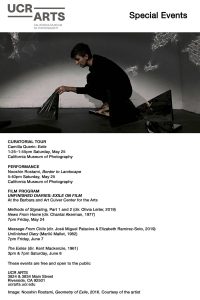 Exile
The Land of Non-Belonging
California Museum of Photography
May 25 – September 8, 2019
Reception: Saturday, May 25, 2019, 4pm – 6pm
Curatorial Tour: Saturday, May 25, 2019, 1:25pm – 1:55pm
Performance: Saturday, May 25, 2019, 5:40pm
Camilla Querin, curator of the exhibition Exile: The Land of Non-Belonging, will offer a walk-through of the exhibition before it opens to the public.
How does it feel to be far from home when going back is out of question? Exile: The Land of Non-Belonging explores the experience of exile and the desire for identity and belonging at a moment when thousands of people are being torn away from their homelands. Coming from Afghanistan, Cuba, Iran, Palestine, and Vietnam, the five artists whose works are included in this exhibition all left their native countries because of forced expatriation or voluntary emigration. They use photography and photo-related practices to narrate their journeys through new environments where gender, ethnicity, and sexuality assume different connotations.
The works engage with different aspects of exiled experience, which can have both positive and negative consequences. The fragility of objects and the ephemerality of gestures contrast with the permanence of memory and the power of self-affirmation. Exile features artworks by Nidaa Badwan, Ana Mendieta, Anh-Thuy Nguyen, Nooshin Rostami, and Gazelle Samizay, and is accompanied by a curatorial tour, artist performance, and related film program.
Exile is curated by Camilla Querin, Curatorial Fellow at the California Museum of Photography. Offered to an exceptional PhD student in the History of Art at UCR, the CMP Curatorial Fellowship enables emerging scholars to work closely with curatorial staff and faculty advisors to conceive museum projects based on their own research interests. In this way, CMP Fellows contribute new scholarship to their field through original exhibitions. The Curatorial Fellowship program is a partnership between UCR ARTS and the History of Art Department at UCR. Exile is the inaugural CMP Fellowship exhibition.
The exhibition is made possible with the support of UCR's College of Humanities, Arts, and Social Sciences (CHASS); the City of Riverside; UCR's Department of the History of Art; the Center for Ideas and Society; and UCR's Departments of Theater, Film, and Digital Production; Art; English; Anthropology; Religious Studies; Media and Cultural Studies; Political Science; Sociology; Philosophy; and the Middle East and Islamic Studies Program.
---