Dismantling Larry Clark's Tulsa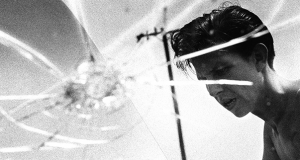 June 10, 2016-January 28, 2017
California Museum of Photography at UCR ARTSblock
EXHIBITION PREVIEW: 6-9pm, Thursday, June 9
The California Museum of Photography presents Unruly Bodies: Dismantling Larry Clark's Tulsa, on view at the museum from June 10 through January 28, 2017, featuring works from the museum's permanent collection. The exhibition is guest curated by graduate students from the Department of the History of Art and the Public History Program as advised by Susan Laxton, Assistant Professor of the History of Art at UCR. Unruly Bodies will be celebrated during a free public reception on Thursday, June 9, 6-9pm, and will be accompanied by public programming and a publication of student writing.
This exhibition is a historically informed reassessment of the artist Larry Clark's controversial first book, Tulsa (1971), a set of 50 images depicting a tight circle of friends and drug addicts in Tulsa, Oklahoma, photographed over a span of nine years (1963-71) by one of their number, Clark himself. On first appearing, the exposé was hailed as "a devastating portrait of an American tragedy" and embraced as an artistic watershed of participant observer-oriented personal documentary. Yet in spite of its anthropological connotations, the story Tulsa tells is the product of a tightly constructed, nearly cinematic narrative of descent from teenage experimentation to a drug-fueled haze of chaos, violence, exploitation, and death — a "slippery slope" sequence that tells us what we already want to believe about the self-destructive countercultures of the 1960s. This exhibition seeks to recover some of the untold counter-stories that live in the interstices between these affectively charged images, by loosening them from Clark's sequence and opening them to multiple interpretations that address Tulsa's historical conditions of production and reception.
UCR ARTSblock is located at 3824 & 3834 Main Steet, Riverside, CA 92501, and encompasses three venues: the California Museum of Photography, Culver Center of the Arts, and Sweeney Art Gallery. ARTSBlock is open Tuesday-Saturday, noon-5pm. Admission is $3, and includes entry to all three venues. Galleries are open late and admission is free during First Thursday ArtWalks, which take place on the first Thursday of every month, 6-9pm.
Image: Larry Clark, Untitled, 1963 (detail), from the series "Tulsa," 1963-71; Collection of the California Museum of Photography at UCR ARTSblock, 1983.0064.0005 © Larry Clark, Courtesy of the artist and Luhring Augustine, New York.