Situating Sovereignty:
Art and Indigenous Experience in Sixteenth-Century Mexican Missions
Savannah Esquivel
Ph.D. Candidate, The University of Chicago
Wednesday, March 11 at 5:15pm
ARTS Seminar Room 333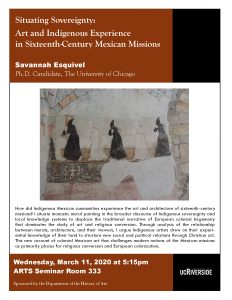 How did Indigenous Mexican communities experience the art and architecture of sixteenth-century missions? I situate monastic mural painting in the broader discourse of Indigenous sovereignty and local knowledge systems to displace the traditional narrative of European colonial hegemony that dominates the study of art and religious conversion. Through analysis of the relationship between murals, architecture, and their viewers, I argue Indigenous artists drew on their experiential knowledge of their land to structure new social and political relations through Christian art. This new account of colonial Mexican art thus challenges modern notions of the Mexican missions as primarily places for religious conversion and European colonization.