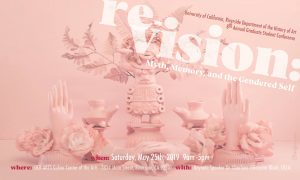 Re-Vision: Myth, Memory, and the Gendered Self
The Art History Graduate Student Association (AHGSA) will host its eighth annual academic conference Saturday, May 25th, 2019 at UCR ARTS Barbara and Art Culver Center of the Arts in Riverside. The conference is open to all graduate students, as well as the public; there is no registration fee. This event is entirely student-generated and organized by UCR's Department of the History of Art graduate students. This is an all-day event, and the goal of this year's conference is to promote an interdisciplinary dialogue through visual and material culture by questioning imposed gendered hierarchies and identities, in order to facilitate inclusive understandings of gendered roles through history. This year's theme concerns re-vision — revising, re-conceptualizing, and seeing differently — as the act of "looking back" to forge new critical directions and critique androcentric world views and traditions.
Keynote Speaker: Dr. Charlene Villaseñor Black, UCLA Department of Art History
Speakers and conference goers will also have the opportunity to view two opening exhibitions at the museum that evening: the Senior Art Show, and the art exhibition entitled Exile: The Land of Non-Belonging — curated by graduate student and Curatorial Fellow, Camilla Querin — at the California Museum of Photography, May 25th – September 8, 2019.
Facebook event page: https://www.facebook.com/events/415884202310909/