Fall Reception — Unruly Bodies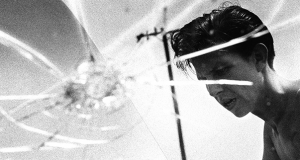 On Thursday, October 6, 6pm-8pm, UCR ARTSblock hosts its Fall Reception. This event is organized in conjunction with the City of Riverside's First Thursdays ArtsWalk. Come check out the current exhibitions, including Unruly Bodies: Dismantling Larry Clark's Tulsa; Laurie Brown: Earth Edges; Rotation 2015: Recent Acquisitions; and Steve Rowell: Parallelograms at the California Museum of Photography, as well as Instilled Life: The Art of the Domestic Object at the Sweeney Art Gallery, and For the Record… Contemporary Videos from the Permanent Collection of the Sweeney Art Gallery in the Culver Center atrium.
The reception is free and open to the public.