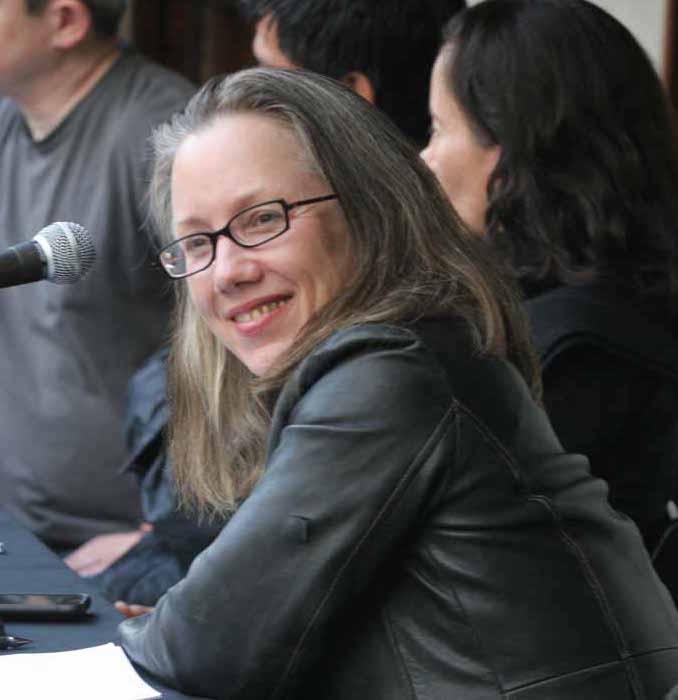 Associate Professor
Ph.D., Columbia University
227 Arts Building
(951) 827-5921

ewkotz@ucr.edu

Curriculum Vitae

Personal website
Biography/EducationResearch/TeachingSelected PublicationsBooks
Liz Kotz
Liz Kotz has taught at UC Riverside since 2007. She is the author of Words to Be Looked At: Language in 1960s Art (MIT Press, 2007), which traces the proliferation of language as a material across experimental practices in music, performance and the visual arts. Drawing on more than two decades of research on 1960s avant-gardes, Kotz is completing a book on the emergence of interdisciplinary artmaking, through an examination of An Anthology of Chance Operations, the influential collection of scores, poems, drawings, and manifestos assembled by the composer La Monte Young in 1961 (and published in 1963). Other recent/forthcoming essays discuss the landmark Dwan Language shows of 1967-1970, the 1972 gallery exhibition Memory by the poet Bernadette Mayer, and the poetry of the sculptor Carl Andre. She also publishes widely on the work of contemporary artists, including Amy Adler, Lutz Bacher, Madison Brookshire, Richard Hawkins, Evan Holloway, Zoe Leonard, among others. Her recent graduate seminars have examined Los Angeles Art of the 1970s, Post-WWII Painting, and Art After the Object.
Education
2002 Ph.D. Comparative Literature, Columbia University, with distinction
Thesis: "Words on Paper Not Necessarily Meant to Be Read as Art: Postwar Media Poetics From Cage to Warhol" (Sponsor: Benjamin H.D. Buchloh)
1996 M. Phil. Comparative Literature, Columbia University
1992 M.A. English and Comparative Literature, Columbia University
1989-91 Graduate study, Film Studies, San Francisco State University
1986 B.A. Humanities, Honors, Stanford University
1983-84 Littérature Moderne, Université de Paris VII
Areas of Specialization: modern and contemporary art history, with an emphasis on cross-disciplinary art practices including performance, experimental film and video, text and sound; psychoanalysis and theories of the subject; the history and theory of photography.
"Language Upside Down," in Mary Bauermeister: The New York Decade. Smith College Museum of Art, 2015.
"Conversation with Tashi Wada," Simone Forti, Thinking with the Body. Austria: Museum der Moderne Salzburg, 2014.
"Convergence of Music, Dance and Sculpture c1961," in Assign & Arrange: Methodologies of Presentation in Art and Dance. Berlin: Sternberg Press, 2014.
"Poetry Machines" (on work by George Maciunas and Dieter Roth), in +/-1961: Founding the Expanded Arts. Madrid: Museo Nacional Reina Sofia, 2013.
"Why Memory Matters: Notes on Bernadette Mayer's Work," Concreta 02, Barcelona: Fall 2013: 4-19. Spanish and English.
"Seth Siegelaub: Passages," Artforum, December, 2013.
"Dark Rides," Evan Holloway. London, UK: Ridinghouse, 2012.
"Make an object to be lost: multiples and minimalism," The Small Utopia: Ars multiplicata. Venice: Fondazione Prada, 2012.
"Attention Span 2012"
Books
Liz Kotz, Words to Be Looked At: Language in 1960s Art. Cambridge, MA: MIT Press, 2007.
Eileen Myles and Liz Kotz, eds. The New Fuck You: Adventures in Lesbian Reading. New York: Semiotexte, 1995.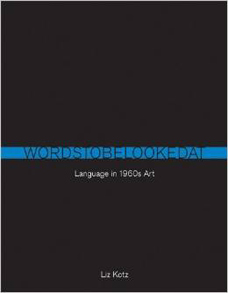 Words to Be Looked At: Language in 1960s Art
2010, The MIT Press
Liz Kotz, author
Language has been a primary element in visual art since the 1960s–in the form of printed texts, painted signs, words on the wall, recorded speech, and more. In Words to Be Looked At, Liz Kotz traces this practice to its beginnings, examining works of visual art, poetry, and experimental music created in and around New York City from 1958 to 1968. In many of these works, language has been reduced to an object nearly emptied of meaning. Robert Smithson described a 1967 exhibition at the Dwan Gallery as consisting of "Language to be Looked at and/or Things to be Read." Kotz considers the paradox of artists living in a time of social upheaval who use words but chose not to make statements with them. Kotz traces the proliferation of text in 1960s art to the use of words in musical notation and short performance scores. She makes two works the "bookends" of her study: the "text score" for John Cage's legendary 1952 work 4'33"–written instructions directing a performer to remain silent during three arbitrarily determined time brackets– and Andy Warhol's notorious a: a novel–twenty-four hours of endless talk, taped and transcribed–published by Grove Press in 1968. Examining works by artists and poets including Vito Acconci, Carl Andre, George Brecht, Douglas Huebler, Joseph Kosuth, Jackson Mac Low, and Lawrence Weiner, Kotz argues that the turn to language in 1960s art was a reaction to the development of new recording and transmission media: words took on a new materiality and urgency in the face of magnetic sound, videotape, and other emerging electronic technologies. Words to Be Looked At is generously illustrated, with images of many important and influential but little-known works.
The New Fuck You: Adventures in Lesbian Reading
1995, Semiotext(e)
Liz Kotz, co-edited
Borrowing its name from the notorious '60s Ed Sanders magazine, Fuck You: A Magazine of the Arts, the editors have figured a way to rehone its countercultural and frictional stance with style and aplomb. A unique and provocative anthology of lesbian writing, guaranteed to soothe the soulful and savage the soulless. Includes Adele Bertei, Holly Hughes, Sapphire, Laurie Weeks, and many more.