Art History Doctoral Candidate, Cambra Sklarz, presented at the Getty Graduate Symposium on February 3, 2023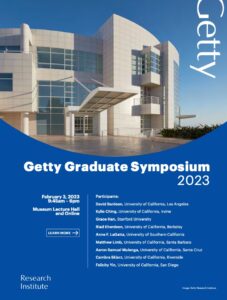 The Getty Research Institute hosted the fifth annual Getty Graduate Symposium, which showcased the work of emerging scholars from art history graduate programs across California. Organized into three sessions, the symposium included nine individual presentations, panel discussions moderated by faculty mentors, and Q&A sessions with the audience.
Congratulations to Cambra Sklarz for being recognized for her outstanding work.
Cambra's presentations, The Artist and the Ecosystem: Strategies for the Use and Reuse of Materials in Early America can be viewed online via the Getty Research Institute's YouTube channel: https://www.youtube.com/playlist?list=PLdcw4RhcVX8s4hcliEh_DUburxDcBvo6Q
The full program can be found here.