African Cities and Writing New Histories, A Conversation
Join us on Tuesday, October 13, 2020 at 5:30 pm (PDT) — via Zoom
Register at https://tinyurl.com/y5ku2es5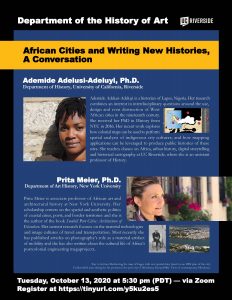 Ademide Adelusi-Adeluy, Ph.D.
Department of History, University of California, Riverside
Ademide Adelusi-Adeluyi is a historian of Lagos, Nigeria. Her research combines an interest in interdisciplinary questions around the use, design and even destruction of West African cities in the nineteenth century. She received her PhD in History from NYU in 2016. Her recent work explores how colonial maps can be used to perform spatial analysis of indigenous city cultures, and how mapping applications can be leveraged to produce public histories of these sites. She teaches classes on Africa, urban history, digital storytelling and historical cartography at UC Riverside, where she is an assistant professor of History.
Prita Meier, Ph.D.
Department of Art History, New York University

Prita Meier is associate professor of African art and architectural history at New York University. Her scholarship centers on the spatial and aesthetic politics of coastal cities, ports, and border territories and she is the author of the book Swahili Port Cities: Architecture of Elsewhere. Her current research focuses on the material technologies and image cultures of travel and transportation. Most recently she has published articles on photography's role as a material artifact of mobility and she has also written about the cultural life of Africa's postcolonial engineering megaprojects.