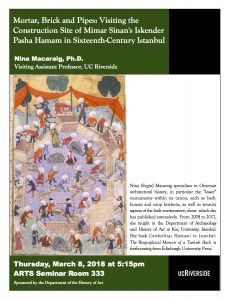 Mortar, Brick and Pipes: Visiting the Construction Site of Mimar Sinan's Iskender Pasha Hamam in Sixteenth-Century Istanbul.
Nina Macaraig, Ph.D. Visiting Assistant Professor, UC Riverside
Nina (Ergin) Macaraig specializes in Ottoman architectural history, in particular the "lesser" monuments within its canon, such as bath-houses and soup kitchens, as well as sensory aspects of the built environment, about which she has published extensively. From 2008 to 2017, she taught in the Department of Archaeology and History of Art at Koç University, Istanbul. Her book Cemberlitas Hamami in Istanbul: The Biographical Memoir of a Turkish Bath is forthcoming from Edinburgh University Press.
Thursday, March 8, 2018 at 5:15pm ARTS Seminar Room 333 Sponsored by the Department of the History of Art