It is our great pleasure to share that PhD candidate, Molly Bond, will present on her research at the Kunsthistorisches Institut in Florenz.
Wednesday, October 19, 2022 at 5:30 am PDT (2:30 pm GMT+2)
In person at the Palazzo Grifoni (Florence) and online
https://zoom.us/j/95475374245?pwd=c0w4UWt6bk5DM1Y1MkMxSEhBWlQxZz09
Meeting-ID: 954 7537 4245
Spaces of Relief Sculpture: Embodied Spectatorship and the Late Cinquecento "Recanati School"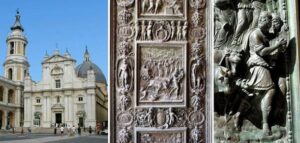 In 1564 Florentine monk and intellectual Vincenzo Borghini deemed basso rilievo the 'dolce amaro' of the arts: 'sweet' because sculptors might approach the capacity of painting to depict elements of an istoria, but also 'bitter' because relief could neither render a convincing painterly illusion of depth nor offer the multiple views of sculpture in the round. Borghini's opinion of relief as a kind of 'imperfect hybrid' (Ostrow 2004, 336) is far from unique: indeed, such ambivalence typifies most writings on relief—themselves very few and far between—from the early modern period. Yet, as uneasy as art theoreticians were with this art form, relief permeated the built environment and daily lives of contemporary Italians, as it invested objects ranging from monumental architectural façades to miniature plaquettes. A partial and 'imperfect' amalgamation of painting and sculpture perhaps, but such in-betweenness allowed reliefs to use the means of both in order to engage viewers across an incredibly broad array of socio-spatial contexts. Foregrounding the idea of embodied spectatorship, my presentation will examine both textual accounts and artifacts that respond to particular aspects of such interaction, including that of a spectator's mobility, tactile engagement, and the changeable environments that conditioned their encounters with relief sculpture. While similar, phenomenologically-oriented approaches have been fruitfully applied to the study of Renaissance sculpture in the round and even painting, these concerns remain underexplored with respect to relief sculpture. Here the production of the late 16th-century 'Recanati School' of bronze casters will form my primary case study: not only did these artists develop an unusually strong tradition of bronze relief, but their work spanned a wide variety of different socio-religious spaces—from doors, to chapel walls, to statue bases—in and around the Basilica della Santa Casa di Loreto.