2023 Brink Carrott Forster-Hahn Lecture Series
Join Us on Thursday, April 27, 2023 at 5pm in ARTS 333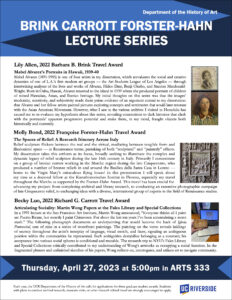 Lily Allen, 2022 Barbara B. Brink Travel Award
Mabel Alvarez's Portraits in Hawaii, 1939-40
Mabel Alvarez (1891-1985) is one of four artists in my dissertation, which reevaluates the social and creative dynamics of one of L.A.'s first modern art groups — the Art Students League of Los Angeles — through intertwining analyses of the lives and works of Alvarez, Hideo Date, Benji Okubo, and Stanton Macdonald- Wright. Born in Oahu, Hawaii, Alvarez returned to the island in 1939 where she produced portraits of children of mixed Hawaiian, Asian, and Iberian heritage. My initial thoughts on this series was that the images' modernity, sensitivity, and subjectivity made them prime evidence of an argument central to my dissertation: that Alvarez and her fellow artists painted pictures exploring concepts and sentiments that would later resonate with the Asian American Movement. However, what I saw in the various archives I visited in Honolulu has caused me to re-evaluate my hypothesis about this series, revealing connections to dark histories that clash with the portrayals' apparent progressive potential and make them, in my mind, fraught objects both historically and currently.
Molly Bond, 2022 Françoise Forster-Hahn Travel Award
The Spaces of Relief: A Research Itinerary Across Italy
Relief sculpture flickers between the real and the virtual, mediating between tangible form and illusionistic space — in Renaissance terms, partaking of both "sculptural" and "painterly" effects. My dissertation takes this artform as its focus, broadly seeking to illuminate the complex and dynamic legacy of relief sculpture during the late 16th century in Italy. Primarily I concentrate on a group of bronze casters working in the Marche region during the late Cinquecento, who produced a number of bronze reliefs in and around the Basilica della Santa Casa in Loreto — home to the Virgin Mary's miraculous flying house! In this presentation I will speak about
my time as a doctoral fellow at the Kunsthistorisches Institut in Florenz, especially my travel throughout the Marche as supported by the Forster-Hahn Award. This travel has been crucial for advancing my project: from completing archival and library research, to conducting an extensive photographic campaign of late Cinquecento relief, to exchanging ideas with a diverse, international group of experts in the field of Renaissance studies.
Becky Luo, 2022 Richard G. Carrott Travel Award
Articulating Sociality: Martin Wong Papers at the Fales Library and Special Collections
In a 1991 lecture at the San Francisco Art Institute, Martin Wong announced, "Everyone thinks all I paint are Puerto Ricans, but secretly I paint Chinatown. For about the last ten years I've been accumulating a secret stash." The following photograph documents an underpainting that would become the back of Iglesia Pentecostal, one of nine in a series of storefront paintings. The painting on the verso reveals inklings of secrecy throughout the artist's interplay of language, visual motifs, and faces, signaling an ambiguous position within the communities he represented. Such ambiguities destabilize belonging as a constant; his acceptance into various social spheres is conditional and mutable. The research trip to NYU's Fales Library and Special Collections critically contributed to my understanding of Wong's artworks as occupying a social function. In the fragmented phrases and unfinished sketches of his papers, Wong reflects on, interrogates, and utilizes art to navigate community.