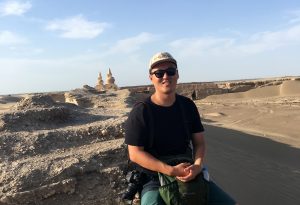 Assistant Professor, Undergraduate advisor
Ph.D., Yale University
222 Arts Building
(951) 827-4634
yong.cho@ucr.edu
Biography/EducationResearch/TeachingSelected Publications
Biography
As a specialist in the art and architecture of East and Central Asia from medieval and early modern periods, Yong Cho focuses on the question of how artistic creativity emerges when people, objects, and ideas move or become displaced from their place of origin. His research interests cover a broad range of topics: theories of cross-cultural contact, multiculturalism and multilingualism in visual arts, the visual and material cultures of mobile societies, sacred objects and their relationship to ritual, the relationship between making and meaning, and the historiography of Silk Road art and archaeology.
His current book project, tentatively titled The Mongol Impact: Rebuilding the Arts System in Yuan China (1271-1368), investigates a moment of major cultural transformation in the imperial court of China, when the Mongols, the tent-dwelling pastoral nomadic peoples of the North Asian steppe, became rulers of a world empire. By focusing on fabric images, it traces how the Mongol visual culture had a lasting impact in the history of Chinese art.
Cho received his Ph.D. in the History of Art from Yale University in May of 2020. His Ph.D. dissertation was awarded the Frances Blanshard Prize from Yale University. In 2021-2022, he was a postdoctoral scholar at the Getty Research Institute.
Education
2020 Ph.D., Yale University, History of Art
2013 B.A., Yale University, History of Art and East Asian Studies
Areas of Specialization and Primary Research/Teaching Interests:

Interconnectedness of art and architecture in Eastern Eurasia from the 10th-14th centuries (China, Korea, Japan, Central Asia, Himalayas, Mongolia, and Southeast Asia); Mongol Empire; Buddhist art and architecture; nomadic art and architecture; art and history along the Silk Roads; cross-cultural contact in visual and material culture; textile history; material culture theory.
Other Research/Teaching Interests:
Visual and material culture of shaman rituals in Korea, North Asia, and Siberia; cultural history of Korean diaspora in the former Soviet Union, Japan, China, and the Americas; animal-human relations and visual culture.
"Juyong Gate: Wall Hangings in Stone." Archives of Asian Art 73, no.2 (2022): 221-53.
"Silk Road." In The Encyclopedia of Ancient History: Asia and Africa, eds. D. Potts, E. Harkness, J. Neelis, and R. McIntosh (Malden, MA: Wiley-Blackwell, 2021).