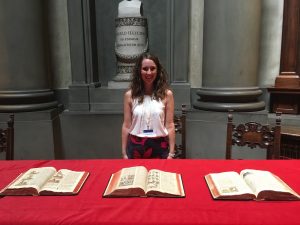 Assistant Professor
225 Arts Building
(951) 827-4634
savannah.esquivel@ucr.edu
Biography/EducationResearch/TeachingSelected Publications
Biography
Savannah Esquivel specializes in the art and material culture of the Hispanic Americas, with a particular emphasis on Mexico. Her research focuses on the artistic and sociopolitical interventions made by Nahua communities within Christian religious spaces in colonial Mexico. Current article-length projects investigate the soundscape of Franciscan convent churches, landscape mural painting and the ecological impacts of settler-colonialism in the Puebla-Tlaxcala Valley, and discourses of Indigenous presence and absence in Spanish colonial sources and art historical methodologies. She is at work on a book-length project, tentatively titled Indigenous Insiders: Landscape, Light, and Sound in Mexico's Colonial Convents, which examines how Indigenous communities used Franciscan convents— their imagery, sounds, spaces, and institutional structure—to challenge settler-colonialism in colonial Mexico. Esquivel is a Faculty Affiliate of the UCLA Center for 17th- & 18th-Century Studies and the William Andrews Clark Memorial Library. In 2023-2024, Esquivel will be the Fletcher Jones Foundation Fellow in The Huntington-UC Program for the Advancement of the Humanities, an innovative partnership designed to advance the humanities at public universities.
Education
2020 University of Chicago, Art History
2011 University of Illinois at Chicago, Art History
2009 University of Iowa, Art History and Religious Studies
Areas of Specialization and Primary Research/Teaching Interests:
Art and material culture of the ancient and colonial Americas, with a focus on architecture and mural painting in contexts of religious conversion in Mexico. Indigenous studies; Nahuatl language and culture; art and ecology; mendicant art and architecture.
Review of Ana Pulido Rull, Mapping Indigenous Lands: Native Land Grants in Colonial New Spain: Native Land Grants in New Spain, for Ethnohistory 69, no. 3 (2022): 366–367.
Indigenous Textual Cultures: Reading and Writing in the Age of Global Empire, for Native American and Indigenous Studies 9, no. 2 (Fall 2022): 195-197.
Review of Tony Ballantyne, Lachy Paterson & Angela Wanhalla, eds.