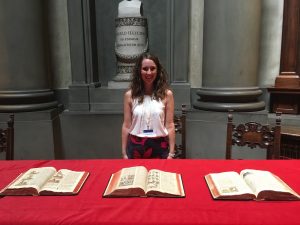 Assistant Professor
225 Arts Building
(951) 827-4634
savannah.esquivel@ucr.edu
Biography/EducationResearch/Teaching
Biography
Savannah Esquivel joined UC Riverside in 2020 as a specialist in the art and material culture of the Hispanic Americas, with a particular emphasis on Mexico. Her research focuses on the artistic and sociopolitical interventions of Indigenous communities within Christian religious spaces in colonial Mexico. Current projects investigate landscape mural painting and the ecological impacts of settler-colonialism in early colonial Mexico, and discourses of Indigenous presence and absence in Spanish colonial sources and art historical methodologies. She is currently at work on a book-length project, tentatively titled Unsettling the Spiritual Conquest: Indigenous Art and Agency in Mexico's Colonial Monasteries, which examines how Indigenous communities used their monasteries— its spaces, imagery, and institutional structure—to challenge settler-colonialism in colonial Mexico.
In 2021-2022, Savannah will be the Fletcher Jones Foundation Fellow in The Huntington-UC Program for the Advancement of the Humanities, an innovative partnership designed to advance the humanities at public universities.
Education
2020 University of Chicago, Art History
2011 University of Illinois at Chicago, Art History
2009 University of Iowa, Art History and Religious Studies
Areas of Specialization and Primary Research/Teaching Interests:
Art and material culture of the ancient and colonial Americas, with a focus on architecture and mural painting in contexts of religious conversion in Mexico. Indigenous studies; Nahuatl language and culture; art and ecology; mendicant art and architecture.