ASSISTANT PROFESSOR
Dr. phil., Universität Trier; Habilitation/Dr. phil.habil., Universität Leipzig/Germany
2514 HMNSS
(951) 827-1541
johannes.endres@ucr.edu

Academia website
Biography/EducationResearch/TeachingSelected PublicationsBooks
Biography
Johannes Endres joined the departments of Art History and Comparative Literature at UC Riverside in summer 2015 as Assistant Professor. He has received his academic education in Germany, at the Universities of Trier and Leipzig, where he earned his Dr.phil. in 1995, and his Habilitation (Dr.phil.habil.) in 2004, respectively. In the US, he has been teaching as Visiting Professor at the Universities of California in Riverside and Irvine, at San Diego State University, Vanderbilt University, and Cal State Long Beach.
Areas of Specialization
19th Century Art History
German and European Literature 1750-1900 in Interdisciplinary Perspectives (Visual Arts, Film, Music, Sciences)
Cultural Studies
Critical Theory
Important emphases of his research and teaching lie in the area of the history and arts of the 'long 19th century', from enlightenment to Weimar Culture and Vienna Moderne. He has published extensively on the intersections of text, visual arts, music, intellectual history, natural sciences, and the history of science. His most recent research projects are dedicated to Friedrich Schlegel, a pivotal figure of German and European intellectualism, and to concepts of fetishism in art, culture, and social studies.
Recent Courses Taught:
AHS 120 (CPLT 111/EUR120/GER 111/MCS 178)
Berlin Metropolis in Literature, Film, Music, and Art
The course provides an introduction to Berlin and the modern concept of the metropolis as a gateway between the East and West, past and present, private and public life. It explores the topography of the city and the urban space through visual art, film, music, and text. We discuss aspects of city life and its changing expressions in 20th-century culture.
AHS 007
World Art: Images, Issues, Ideas
This course is an introduction to artistic achievements of the world's cultures and to the ways in which they can be viewed. It provides students with a sound understanding of major art works from all ages and corners of the world, and the theoretical concepts and historical circumstances to which they owe their existence. We ask questions such as: What is art? What is an artist? How has their perception changed over time? What is an image? Why does art exist? What is 'world art'? Why do we study art history?
Articles

»David Friedrich Strauß und Lessing,« Lessing Yearbook XLII, 2015, 173-193
»Meaningful Complexity: Goethe's Concept of Similarity,« Modern Language Notes (MLN) 130/3, 2015, 466-486
»Die Geburt der Metapher aus dem Selbstmord des Dichters. Zu Hölderlins Empedokles (The Birth of Metaphor from the Poet's Suicide: On Hölderlin's Empedocles),« Ökonomie des Opfers. Literatur im Zeichen des Suizids (Morphomata, Bd. 14), Munich 2014, 133-166
»Zeitkapsel und Paratext (Time Capsule and Paratext),« Verborgen, unsichtbar, unlesbar – zur Problematik restringierter Schriftpräsenz (Workshop SFB 933), New York: de Gruyter 2014, 215-232
»Notes from the Field: Detail,« The Art Bulletin 94/4, 2012, 481‑485
»Unähnliche Ähnlichkeit: Zu Analogie, Metapher und Verwandtschaft (Unsimilar Similarity: On Analogy, Metaphor, and Kinship),« Konzepte der Ähnlichkeit in den Künsten (Concepts of Similarity in the Arts), ed. Martin Gaier et al., Munich: Fink, 2012, 29‑58
»Textures and Cuts. The Textile Metaphor in Jörg Wickram's The Golden Thread,« Unfolding the Textile Medium in Early Art and Literature, ed. Tristan Weddigen, Berlin: Edition Imorde, 2011, 15‑30
»Freud und die Komödie der Antike (Freud and Ancient Comedy),« Freud und die Antike (Freud and Antiquity), ed. Claudia Benthien et. al., Göttingen: Wallstein, 2011, 315‑340
»›Si wunder wol gemachet wîp.‹ Gesicht, Körper und das Paradox der sichtbaren Unsichtbarkeit (Face, Body, and the Paradox of Visibile Invisibility),« Zeitschrift für Kunstgeschichte 2009, 297‑312
»Evolution und Erbe. Zur Problemgeschichte der ›Wahlverwandtschaften‹ bei Goethe und Darwin (Evolution and Legacy. ›Elective Affinities‹ in Goethe and Darwin),« KulturPoetik 9, 2009, 45–66
»›I can see something you don't see,‹ or: There is no Alternative to the Culture of Arguments,« Journal for Literary Theory (JLT) 2, 2008, 157-166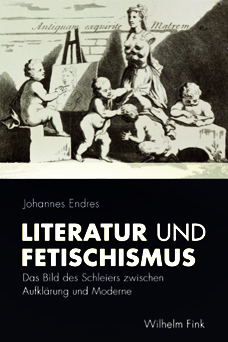 Literatur und Fetischismus: Das Bild des Schleiers zwischen Aufklärung und Moderne (Literature and Fetishism: The Veil-Motif from Enlightenment to Modernity)
2014, FINK: MUNICH
Johannes Endres, author
European eighteenth-century discourse saw the advent of two concepts, which have been central to our understanding of man's relationship to the world and himself ever since: the proclamation of the autonomous artwork and the stigmatization of un-enlightened attitudes towards reality as ›fetishistic‹. The book argues that this is not a coincidence. Thus, it explores the discourse on and the phenomenon of fetishism in its major historical manifestations in ethnology, religious philosophy, social and economic theory, and finally psychoanalysis from the eighteenth to the twentieth century. Particular interest is paid to the metaphorical transfer of the veil motif between images and text, including the comparison of both media in the history of aesthetics from Lessing over Kant, Hegel and Nietzsche up to Benjamin and Warburg. The history of modern art thus appears as a revision of a teleology that implies an evolutionary escape of man from its fetishistic beginnings.